6 Actors Perfect for Geralt in Netflix's 'The Witcher' 
Geralt of Rivia is coming to the small screen, but who should play him?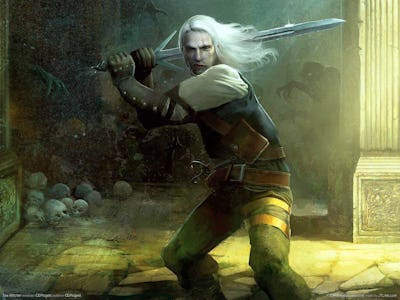 The Witcher Facebook 
Geralt of Rivia will soon be slaying his way across the small screen on Netflix. The Witcher series — which consists of novels, video games, and graphic novels — is expanding into a show. Penned by Polish fantasy author Andrzej Sapkowski, the story is set in a war-torn world of elves and dwarves, vampires, and werewolves. The titular character Geralt of Rivia is a monster-hunter, or a witcher.
Witchers are taken away in their childhood and given potions, modification, and training to boost their skills. Think X-Men meets Game of Thrones, with Polish fairy tales thrown in. The Witcher has potential to be Netflix's first kickass original fantasy show that's legitimately at Game of Thrones's level. (Sorry, Medici: Masters of Florence. You tried.)
The only problem is that the main guy is hard to nail. Geralt of Rivia doesn't exactly look like a regular Joe from the real world. Here's what he looks like in The Witcher video games:
Still, there are a surprising number of actors who could do him justice. Here are the top six:
1. Jason Momoa
The most obvious choice for a badass monster slayer is Jason Momoa. Geralt is a long-haired, sword-wielding fierce guy — and Momoa has pretty much cornered that market. From Game of Thrones to Conan the Barbarian to Aquaman, Momoa has been playing versions of witchers for his entire career. If he's not too busy in the DC Extended Universe, he should be the face of Netflix's The Witcher.
2. Travis Fimmel
Travis Fimmel is best known as Ragnar Lothbrok on History's Vikings, a badass warrior with a wily streak. Don't let his past as a model fool you; he's a solid actor who brings a sense of mischief and kinetic energy to all his roles. Slap a wig on him, and Ragnar Lothbrok could be Geralt of Rivia.
3. Theo Rossi
Theo Rossi is best known for playing Hernan Alvarez, or "Shades," on Luke Cage and Juan Carlos Ortiz, or "Juice," on Sons of Anarchy. He's got a killer swagger, but he'd also bring a sense of vulnerability to Geralt of Rivera that would infuse the show with soul. Just give him a long silver wig and he's got the right eyes and demeanor to be Geralt.
4. Lewis Tan
Lewis Tan is best known for his small but scene-stealing role on Iron Fist that prompted everyone to wonder why he wasn't in the titular role. Even with limited screen time, he brought a sense of fun, and proved that he can star in memorable, badass fight sequences. Give him a wig and he's good to go as Geralt.
5. Ed Skrein
Ed Skrein is best known for his short-lived stint as the first Daario Naharis on Game of Thrones and his turn as the villain in Deadpool. He brings an aura of cockiness and charisma to his roles that would serve Geralt well. It's about time he starred in his own project instead of playing a side role.
6. Zach McGowan
The other most obvious choice, aside from Jason Momoa, is Zach McGowan. He's best known for playing the zero-fucks-given pirate Charles Vane on Black Sails and the zero-fucks-given outlaw King Roan on The 100. He brings a sense of athleticism to all his action sequences, but he also infuses his characters with a mixture of swaggering charisma, wit, and surprising depth. Plus, his resemblance to Geralt is uncanny.
There is no word yet on when The Witcher will premiere on Netflix.