Zach McGowan Makes Art Out of Getting Punched in the Face
The star of 'The 100' and 'Black Sails' talks playing Roan and Charles Vane.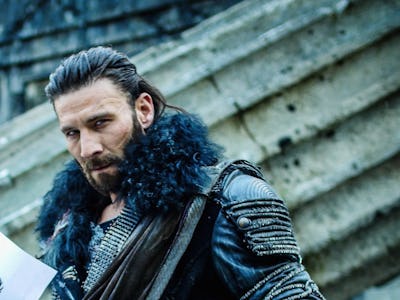 Aaron Ginsburg
If you've seen Zach McGowan on your television screen lately, he was probably brandishing a sword. From The 100's warrior King Roan to Black Sails's pirate Charles Vane, his most renown characters are in their element when decked out in war paint and leather. Even in the role that first catapulted McGowan to prominence — Shameless's cheerfully dim-witted sex addict Jody — he was hardly a regular Joe. But surprisingly, if he's ever done playing swaggering outlaws, that's not what he sees himself playing.
"I was almost a lawyer," he says. "In those moments [before success] where I would have quit [acting], I was going to go to law school. In part of me, there's those characters the world hasn't seen me play yet: the straight family man lawyer type." Unlike King Roan or Charles Vane, McGowan insists, "I'm actually embarrassingly normal."
And yet, throughout his conversation with Inverse, McGowan contradicts that statement. In one breath, he insists that he's not as epic as his characters; in the next, he explains that the reason for his current physique — which makes Thor look like a couch potato — is that he once read about the "perfect" body and was simply curious if it was achievable.
"I went to a liberal arts college where I was an American Studies major," says McGowan. "So I must have read a hundred books about the unattainable body that's presented in entertainment. It was while reading one where I was like, 'I wonder if I can attain it?' For me, it isn't particularly difficult; I've always been an athlete. I haven't played Charles in a while, but I ran 14 miles this morning. Staying in shape has always been just part of my day; it's something I enjoy."
It's also enabled him to do his own stunt work. From his much-discussed fight in The 100 Season 3 to his brawls and horse-leaps on Black Sails, every time you see a McGowan character in action, it's not a stunt man.
"We use bamboo swords on The 100 so if you get hit, it's not too bad," he says. "They were metal on Black Sails, which adds a level of realness. Some people are able to have aggression in their performance while being precise; some go absolutely berserk. I'm very precise with my aggression, which is one of the reasons I'm lucky enough to continue stunt work. It can get physically taxing — I've gotten punched in the face quite a few times in my day. But to be honest, it's fun as hell. Every day I'm on set, I have a big smile, even when I'm up to my neck in mud."
But for as much work as he puts into the physicality of his characters, action scenes aren't the end of it. Charles Vane was a man of few words but surprising depth, and as seen by the speed with which he acclimated to Clarke's plan at the end of The 100 Season 3, Roan has a quick-witted nature that extends beyond the battlefield. "I've always tried to bring some of myself to these parts," he says.
Whenever Charles Vane rolled a coin over his fingers in Black Sails — a move the character became known for — that was McGowan's idea. "I taught myself how to do that on the plane out to South Africa, but I didn't even pitch that to anyone," he explains. "I just did it, and nobody told me to stop. My approach to acting is that it consumes my mind. I can't think of anything else when I'm involved in a scene. You've got to do what's asked, but on top of it, it's that inclination of just doing what I feel is right for the moment."
He adds that it does make a difference, however, as he's progressed from guest star to a regular — as he was on Black Sails and currently is on The 100. "When you're guest starring, you're basically just trying not to get in anyone's way. You're like, 'All right. I'm here. I don't want to piss anyone off.' As things progress, you're like, 'Oh, people actually want to hear my opinion. This is great.'"
Much of King Roan stems from McGowan's desire to play a cowboy. "Roan is my cowboy. It's that archetypal person who has been outcast from society. I love the aspect of entertainment that can take you away from where you are. I grew up in New York City, so anything that was pirates or cowboys was awesome to me, because I was just taking the train."
About what to expect from Roan in The 100 Season 4 — as he's progressed from outcast to the highest ranking ruler — McGowan says, "He's a reasonable person; he's not a warmonger or hatemonger or anything like that. But is he particularly progressive? It's such a different world, it's hard to compare him to today's politics. I've gotten to work with almost everyone on the show at this point. Season 4 has a whole slew of big sequences you wouldn't expect from a network show."
He might not be a household name quite yet, but his presence across shows with cult followings have given McGowan a unique brand of recognition.
"I get stopped quite a bit now. It's a funny part of my life, but I actually dig it because I feel like everywhere I go in the world, I've got friends. When you're getting off a plane in some country where you'll be living for the next two months and you don't know anyone, if someone goes 'Captain Vane, what's up? or 'Roan,' I'm like, 'Sweet, where do I get a drink around here?'"