"It's a Movie That Cannot Be Remade"
Jan de Bont wasn't consulted about the Hollywood sequel to his 1996 disaster movie, but he's cautiously optimistic it could be the next Barbie.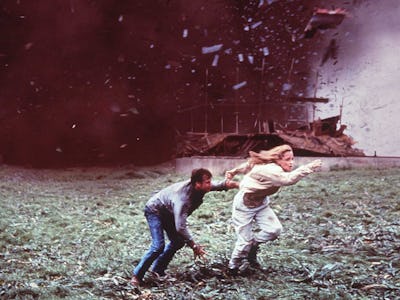 Getty Images/Hulton Archive
Jan de Bont could feel the storm coming. Over the last decade, as the Hollywood IP machine turned on its afterburners and churned out reboots and legacy sequels to a variety of '80s and '90s action blockbusters at an alarming pace, the director knew his 1996 disaster flick Twister would soon get swept up in its recycled path.
After earning almost $500 million at the global box office, becoming the 10th highest-grossing film of all time upon its release, an updated version of the story about a pair of storm chasers pursuing a major tornado seemed all but inevitable.
"It made so much money for the studio," de Bont tells Inverse. "Sooner or later they would do it."
Indeed, as announced last winter, Twisters, a sequel to de Bont's classic, is scheduled to blow into theaters next summer in a joint venture between Universal and Warner Bros. Helmed by Minari director Lee Isaac Chung with a script from writer Mark L. Smith, the project stars Glen Powell, Daisy Edgar Jones, and Anthony Ramos. Twisters reportedly takes place after the events of the original, which starred Bill Paxton and Helen Hunt as meteorologists and estranged spouses. According to Deadline, "Amblin's Steven Spielberg himself flipped for the script… and his enthusiasm provided the impetus for the fast-tracked film."
Originally, Hunt had begun development on a sequel with Blindspotting actor and Hamilton alum Daveed Diggs in June of 2020, pitching a movie set near a Tennessee historically Black university (HBCU). "We could barely get a meeting, and this was in June of 2020 when it was all about diversity," Hunt said on an episode of Watch What Happens Live. "It would've been so cool."
"All I'll say is there was an opportunity where we were talking about that, and it didn't happen," Diggs told Insider last year. "The reasons that it didn't happen are potentially shady. But shady in the way that we know the industry is shady."
Though de Bont was never contacted to consult on the project throughout its evolution, the 79-year-old director believes the new iteration will be largely different from his own vision. That's primarily due to the advances in visual effects technology, which mostly prevent any inventive practical shots from taking place today.
"When things fell from the sky, there were real things falling from a helicopter," he says. "If you film a car escaping a tornado in a hail storm, it was real ice that came at us. It's a movie that cannot be remade… That would never, ever happen again."
Still, he acknowledges that Twister helped change the future of visual effects, becoming one of the decade's most influential films largely thanks to the ingenuity of Industrial Light & Magic. To get the movie made, the VFX behemoth needed to create realistic-looking, computer-generated tornadoes, making virtual swirling and tumbling automobiles look indistinguishable from their practical composites. When the George Lucas company pulled it off, it wasn't long before the production got the funding it needed.
"Every shot was a fortune," de Bont says. "It would take three days to transfer all that information onto film. Right now it's fast, but in the beginning, it was super slow. And we had to be so careful to get the shots done before the movie opened."
De Bont isn't sure if he'll see Twisters next year ("I want to have somebody else see it first," he says), but he enjoyed Minari and surmises Chung, who will be venturing into big-budget territory for the first time, will have a unique perspective on another Midwestern tale. "It might be a really different approach. That's the same with [Greta Gerwig] of Barbie. Nobody would ever have thought she'd direct that movie and make it so successful."
But the long-time cinematographer, known best for shooting Die Hard and The Hunt for Red October and directing Speed, issued some skepticism about the recent trend of indie directors graduating to lead studio tent poles and superhero extravaganzas so quickly.
"Don't forget that the main reason they're finding younger, inexperienced people is they want to be able to fully control them," he says. "They want them to have really good ADs, writers, producers, cinematographers so that they have all the help they can get. But ultimately, the studio is going to tell them what's in the movie. I know that firsthand."