Transformers: Rise of the Beasts Trailer Reveals Its Planet-Eating Villain
Transformers: Rise of the Beasts might finally deliver the goods that the Transformers have been capable of for decades.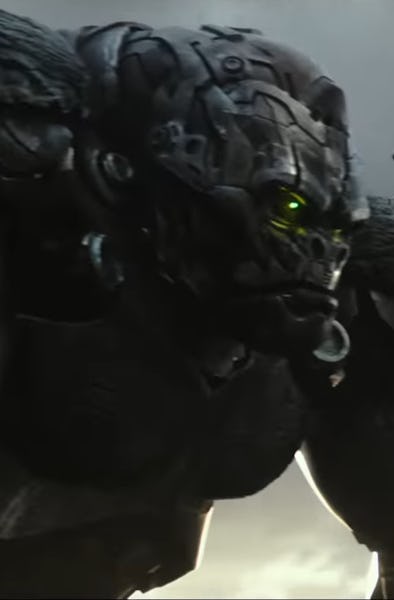 YouTube.com/Paramount Pictures
The Transformers movie franchise spans over 15 years and seven films, but the series has never felt like a bonafide epic in the spirit of Star Wars or Lord of the Rings. But the latest trailer for the next movie, Transformers: Rise of the Beasts, is proving there's more than meets the eye.
On Thursday, Paramount released the latest trailer for Transformers: Rise of the Beasts, prequel-sequel to 2018's Bumblebee, an '80s period piece.
While the new trailer doesn't reveal much more than has been previewed elsewhere, although there's more shots of the evil Unicron and his behemoth size, Rise of the Beasts is shaping up to potentially be a much stronger entry in the Transformers film series than anyone might expect. As exhibited by the trailer, director Steven Caple Jr. is miraculously imbuing some personality into this film that the last several Transformers sequels from Michael Bay did not, and treating the sci-fi mythology of the Transformers as something both magnificent and terrifying.
You can watch the new trailer below.
It might be the remixed DMX track (a rather odd choice considering DMX's first album didn't drop until 1998) or the fact that Rise of the Beasts actually seems to care about the sci-fi lore that drives the Transformers. Either way, Rise of the Beasts is making its fandom nerdiness look cool.
Primarily set in 1994 New York City, Rise of the Beasts sees the introduction of characters from the Transformers spinoff Beast Wars. In a change from canon where the heroic Maximals and their rivals Predacons descend from the Autobots and Decepticons, this time the Maximals seek the help of the Autobots to defend the planet against Unicron, a colossal machine that literally eats planets. And because it's a movie, a few humans — played by Anthony Ramos (In the Heights) and Dominique Fishback (Judas and the Black Messiah, Swarm) — are helping the Transformers save the world.
The premise might all sound like nonsense to anyone who isn't already a fan of the Transformers. But with so much action previewed in the trailer, not to mention visibly cleaner designs for the Transformers themselves, Rise of the Beasts is going to be a hell of a time whether you grew up watching Beast Wars on Saturday mornings or not.
Transformers: Rise of the Beasts opens in theaters on June 9.