50 Years Later, The Creepiest Cult Thriller Classic is Getting a Big Update
Witness the return of The Wicker Man.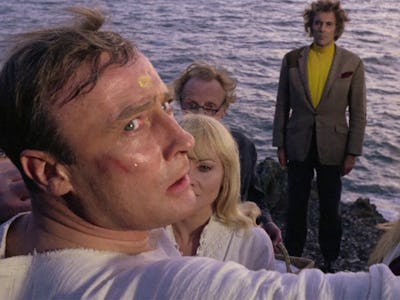 British Lion Films
It's been a great year for home video collectors, especially horror fans. Wes Craven's forgotten superhero flick, Swamp Thing, and Hulu's acclaimed sci-fi horror, Prey, both secured physical releases on 4K UHD and Blu-Ray this month. Things are looking up for media longevity after a handful of streaming exclusives were culled from their respective platforms in early 2023, and this revitalized trend toward physical media isn't showing any signs of slowing down.
Now, Robin Hardy's The Wicker Man is getting a 4K UHD re-release ahead of its 50th anniversary. The 1973 folk horror is revolutionary, having influential horror films like The Shining and Poltergeist. Despite an infamously troubled production and a dismal box office return (it only made $180k against its $750k budget), The Wicker Man has since been embraced for the giddy, sun-streaked shockfest it is.
The film follows a puritanical policeman, Sergeant Howie (Edward Woodward), investigating the disappearance of a young girl on the remote Summerisle. He travels from the Scottish mainland to explore the idyllic island, but the community's practicing pagans don't take kindly to a stranger in their midst. The addition of a charismatic cult leader (Christopher Lee) only makes matters more complicated for our hero, and as Summerisle gears up for its annual May Day celebration, the island's Celtic practices will test Howie's faith.
Even by '70s standards, The Wicker Man was a deeply kooky film. Its director, writer, and producers were at odds throughout production, and creative differences saw the film hacked down to a tamer 80-minute cut. Lionsgate's 4K release restores the film to its "final" version, which includes a bonkers scene where Christopher Lee serenades a pair of mating snails. Special features include a 50th-anniversary featurette, behind-the-scenes interviews, and a closer look at the film's unique soundtrack. Check out the full synopsis for The Wicker Man below:
When a young girl mysteriously vanishes, Police Sergeant Howie (Edward Woodward) travels to a remote Scottish island to investigate. But the seemingly quiet community is not as it appears, as the detective uncovers a secretive pagan society led by the strange Lord Summerisle (Christopher Lee). While the townsfolk tempt and threaten him with bizarre rituals and wanton lust, Howie must race to discover the truth behind the girl's disappearance before his clash with Lord Summerisle builds to a terrifying conclusion — one that has cemented this cult shocker as a modern horror masterpiece.
While The Wicker Man was made infamous by the terrible 2006 remake starring Nicolas Cage, it's a classic that deserves to be remembered in its own right, and this release will help ensure its reputation among a new generation of horror fans. Hopefully, more physical releases of classic horror are right around the corner.
The Wicker Man 4K Ultra HD + Blu-ray arrives on October 17.