The Marvels' Final Trailer Sets Up an Original Avengers Cameo
There's room for more than one powerful superhero in Marvel's upcoming flick.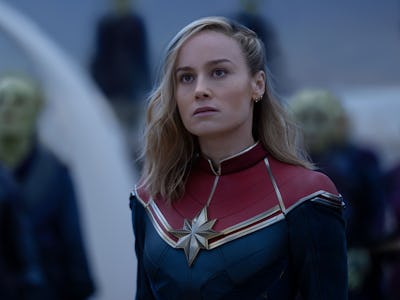 Marvel Studios
Captain Marvel (Brie Larson) is a lot of things, but she's not a big team player. Sure, her first solo outing introduced her as a member of the Kree Starforce, and even paired her with Nick Fury (Samuel L. Jackson) and the Skrull to defeat their common enemy. Once she comes into her true powers at the end of Captain Marvel, however, Carol Danvers is very much in her own league.
Despite swooping in to aid the Avengers in Endgame, Carol has largely been saving the universe on her own. She "kind of became a workaholic," Larson told EW in July. "She lost touch with her heart and with family and friends." Her upcoming adventure in The Marvels will force her to catch up with her connections on Earth. In Dar-Benn (Zawe Ashton), a Kree revolutionary and destroyer of worlds, Carol will face the biggest threat to the universe since Thanos. She won't be able to stop her alone, as much as she may want to.
Teyonah Parris' Monica Rambeau and Iman Vellani's Kamala Khan will join Carol in the fight against Dar-Benn, but they won't be her only allies. Eagle-eyed fans spotted what appeared to be the Bifröst in a recent TV spot, suggesting Carol could reunite with fellow Avenger Thor (Chris Hemsworth). It's highly unlikely Thor would simply step in and save the day, but what could a potential Thor cameo entail? While nothing's off the table just yet, we know for sure that a very different member of Thor's Revengers will appear in The Marvels: Tessa Thompson's Valkyrie.
Marvel Studios recently dropped the final trailer for The Marvels, which laid out the full scope of our trio's upcoming ordeal. Not only will Carol, Monica, and Kamala have to deal with Dar-Benn's Kree insurrection, but her antics may even be causing an incursion between two universes. The once-unflappable Carol seems overwhelmed for the first time. That's understandable, but she's not alone. She just needs a fellow Avenger to step in and remind her of that.
Valkyrie makes a surprising appearance in the latest trailer, teasing what may be a longer conversation with Carol. She gives Captain Marvel a pep talk in what might be the midnight hour; will she also help her save the universe? Marvel may save that particular team-up for down the line, but a cameo from Thompson will always be welcome.
Whatever Valkyrie's role entails, it's still exciting to see a group of Marvel's most powerful female heroes work together organically. Endgame got some flack for its own kitschy "girl power" moment, and things haven't gotten much better for strong representation since. The Marvels has the opportunity to remedy the lack of female-led content in Marvel's Cinematic Universe. We may even be seeing the beginnings of A-Force, the all-female comic book super-group. Time will tell, but the new film is already shaping up to be an important MCU entry.
The Marvels hits theaters on November 10.