How The Marvels' Ending Sets Up the Next Avengers Team
"Did you think you were the only kid superhero in the world?"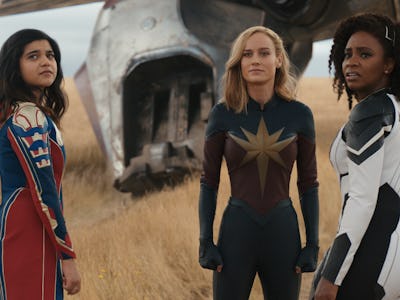 Marvel Studios
Fifteen years ago, there was an idea: To bring together a remarkable group of people to fight the battles mankind never could. Now, with The Marvels, that idea is getting a teenage reboot.
The Marvels, from director Nia DaCosta, is the latest installment of the Marvel franchise that unites three cosmic superheroines: Carol Danvers/Captain Marvel (Brie Larson), Monica Rambeau (Teyonah Parris), and Kamala Khan/Ms. Marvel (Iman Vellani), collectively known as "The Marvels." These heroes team with Nick Fury (Samuel L. Jackson), who has come a long way as the head of S.H.I.E.L.D. to oversee, well, another organization of impossible scale, S.A.B.E.R.
The Marvels flings Carol, Monica, and Kamala across planets, with Fury frequently calling the shots from S.A.B.E.R. HQ. This experience seems to have rubbed off on Ms. Marvel, who ends The Marvels in similar fashion to how Nick Fury ended Iron Man so long ago.
Here's what the ending of The Marvels is all about, and what it might mean for the future of the Marvel Cinematic Universe.
Warning: Spoilers for The Marvels ahead.
What Is Ms. Marvel Doing at the End of The Marvels?
For the most part, The Marvels ends without any ambiguity. While Monica is left stranded in another reality, Carol and Kamala grow closer as her family helps Carol move into Monica's old home in Louisiana. The two agree that Monica isn't gone forever, and that she'll be back someday. (Should someone, uhh, call Doctor Strange for help? I mean, he just met a girl who can cross the multiverse. That might be helpful, right?)
Meanwhile, Kamala has grown inspired after working with Nick Fury. Realizing there are other superheroes roughly her age, and perhaps sensing Earth is vulnerable without an active Avengers roster, Kamala uses S.A.B.E.R. files to track down and recruit a new team. The very end of The Marvels takes place in New York, inside the apartment of — wait for it — Kate Bishop, with Hailee Steinfeld appearing in a surprise cameo.
After arriving home from who-knows-where, Kate finds Kamala waiting in the dark. Kamala hilariously paraphrases what Fury told Tony Stark in his home: "Did you think you were the only kid superhero in the world?" (This gets a chuckle out of Kate, who reminds Kamala she's 23.) Kamala tells Katie she already knows a lot about her, revealing S.A.B.E.R.'s cutting-edge tablet that was apparently left on her couch.
Again echoing Fury, Kamala tells Kate, "You've just become part of a much larger universe," before adding, "Which, at the moment, is just me, mostly. I do have feelers out there. Did you know Ant-Man has a daughter?" When Kate asks again what Kamala wants, Kamala confirms: "I'm putting together a team."
After a dramatic pause, Kamala asks in a nicer tone, "Please?"
Is Ms. Marvel Assembling the Young Avengers – or the Champions?
Because comic books are, well, comic books, adult superheroes aren't the only ones who fight to save Earth together. Both Marvel and DC have iconic teenage superhero teams. While DC has the Teen Titans led by Robin, Marvel has had teams like the Young Avengers and the Champions, the latter formed by Ms. Marvel herself.
Since the start of Phase Four, various members of the Young Avengers have appeared in the MCU: America Chavez, Kate Bishop, Cassie Lang, Wanda's kids Billy and Tommy, and Eli Bradley (the grandson of Isaia Bradley). All of these whippersnappers made up the Young Avengers in comics, and now that all of them have live-action counterparts in the MCU, it's inevitable they'll soon join forces. (Expect some, like Tommy and Billy, to get recast with slightly older actors, should there be a project in the near future.)
In comics, the Young Avengers first joined up in 2005 to headline their own comic book series; their story began in the aftermath of "Avengers Disassembled," a multi-part comics storyline in Avengers. After almost 10 years of being active in Marvel's comics continuity, the Young Avengers disbanded when some of its members joined a different team, the West Coast Avengers, and others sought to prioritize their personal lives.
In 2016, the aftermath of Marvel's crossover event Civil War II introduced a new team: Champions. Ms. Marvel, who joined the Avengers in 2015, grew disillusioned by her idol Captain Marvel, having opposed her actions throughout Civil War II. Kamala leaves her dream job and forms the Champions, made up of other youthful heroes rebelling against their adult predecessors: Miles Morales, Nova, Amadeus Cho (Bruce Banner's protege, and at the time Marvel's new Hulk), Vision's daughter Viv, and a young Cyclops (of the X-Men) who is displaced from his proper timeline.
The MCU doesn't really have room for two different teams using the same basic idea. Nor is it unlike the MCU to fuse together ideas, characters, and stories to create something unique for the screen. With The Marvels, the MCU is officially positioning Kamala Khan as the founder and leader of a combined Young Avengers/Champions-like team. But where will they show up? When will they spring into action? And more importantly, who else will join her? Not even an Infinity Stone can reveal to us what's in store. But if Young Avengers ends up as monumental as The Avengers was, the MCU will never be the same.