Mandalorian Season 3 Star Confirms a Major Change to the Show's Most Iconic Feature
Sometimes, it all comes down to a plural.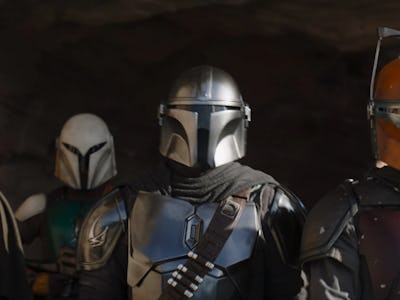 The Mandalorian changed the formula for Star Wars. After decades of space opera films, the first live-action Star Wars TV series shifted gears to an episodic space western. Mando traveled across the galaxy, made friends and enemies, and solved problems by dramatically shooting at them.
But a new quote from Pedro Pascal hints that this tried-and-true formula may shift in The Mandalorian Season 3, which could mean even more epic action for Star Wars fans.
The Mandalorian's usual pace means every episode will unite Mando with a character like Boba Fett, Cobb Vanth, or even that Frog Lady. Mando helps them in exchange for something he needs, and then he goes off on his next adventure. Then, usually around the season finale, Din calls in all his new friends to help with a big battle. Season 1 and Season 2 both saw Mando and friends square off against Moff Gideon.
But that may change. In an appearance on The Tonight Show with Jimmy Fallon, Pedro Pascal hit all the hallmarks of a Mandalorian cast member interview: discussing Baby Yoda, joking about what would happen if he spoiled anything, and being incredibly vague. But he did tease one new development, saying, "I will say there will be more Mandalorians. A lot of them. Big epic battle… plural? Maybe?"
That teasing "plural" implies there will be more than one big battle either among the Mandalorians, or between the Mandalorians and an outside enemy. Or perhaps some combination thereof.
We knew that multiple Mandalorians would appear in the next chapter of Din Djarin's story, as we see them in the trailer. However, it seemed possible that these new characters would be reduced to a showstopping finale that finally reunited Mando with his kind, a reward after another seven episodes of one-off adventures.
Paascal's statement throws that assumption into doubt. If there are multiple battles involving a multitude of Mandalorians, the show may be drifting from its adventure-of-the-week format and into the serialized format of most mainstream TV dramas. The scale of the show has certainly grown from one man trying to pick up a few odd bounty hunter jobs, as it's now about the fate of Mandalore and the Mandalorian people as a whole.
We're now less than a month away from the premiere of The Mandalorian Season 3, and it's almost impressive how little we know about it. But now we know there will be more Mandalorian action than we first thought, which could indicate a change in the series' format.
As Mando seeks forgiveness from the Children of the Watch and tries to dutifully wield the Darksaber, multiple battles with or against Mandalorians may help him reunite his kind and fulfill that ever-looming prophecy.
The Mandalorian Season 3 premieres March 1, 2023 on Disney+.
INVERSE may receive a portion of sales if you subscribe to Disney+ through the link in this article.