The Last of Us star Nico Parker is HBO's hero of the hour
Parker plays a small but pivotal part in The Last of Us Episode 1.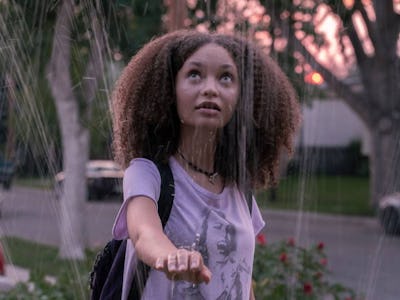 Anyone who's played The Last of Us knows Sarah Miller. She's the first playable character — the first moments of the game are played as Sarah explores her house, looking for her dad Joel in the midst of what would become the zombie apocalypse. She is the center of the game's prologue, which takes up a good part of the HBO adaptation's 80-minute premiere episode, and in a way, she's the heart of the show entirely.
Sarah's relationship with Joel — and the loss he feels without her, 20 years later — is the driving force for The Last of Us' zombie survival story. He knows what it's like to be a father, and he knows what it's like to fail. Even though she's only in the prologue of the game, the player feels her loss throughout as well.
But does Sarah only appear in the prologue, or could we see her in later scenes of the show? Even Nico Parker, who plays Sarah in the upcoming HBO series, has no idea.
"I actually don't know," she tells Inverse. "I know that we filmed stuff where it's like, you never know, but I have no idea. I know that there's continual reminders, and I think there's a reminder that isn't in the game that's prevalent. It sounds like I'm lying, but I have no clue."
But there's one thing she definitely knows — the tall task ahead of her in playing Sarah. Like Sarah, she's also a notable daughter — her parents are actor Thandiwe Newton and writer Ol Parker. Parker spoke with Inverse about her experience filming the iconic prologue, her history with the game, and Sarah's place in the Last of Us universe.
This interview has been edited for clarity and brevity.
What was your history with The Last of Us? Have you played the game?
I've never played the game, but I've watched the game, very prior to me being in any way involved. I used to watch people playing the game, I would watch just the silent gameplay and cry quietly to myself when I was younger. It gave me extensive nightmares, but I loved the plot. It always sounds like I'm lying, but I really did. I loved the plot. I love the characters. So I would just watch it, regardless of the extreme nightmares that it would give me when I was about eight.
Why do you think this is an important story to tell now?
I think it highlights the importance of community and family. Whether that's blood family or a chosen family, I think is incredibly important to illustrate that everyone's been so isolated. After this kind of isolation, this kind of hope, being brought back together, is such a lovely message. I think it's coming at such a lovely time.
What was it like working with Neil Druckmann, the writer and creative director of the original game?
It was amazing. We were all kind of in awe of him because this is his world. This is his brain. This is a combination of all of his ideas in front of us. It was wonderful to see how willing he was for change. He welcomed all kinds of change when it came to the production. I think he didn't want it to be exactly the same as the game. And I think that that free mindset made for an incredibly relaxing filming experience. He was lovely. He's wonderful to work with.
"We all stayed away from the material."
Is there one change that stuck with you?
It's strange because I feel like everyone says how similar it is to the game, but genuinely, we all stayed away from the material. We all wanted to interpret the characters, how we wanted to interact with them. So I think a lot of the similarities come from the material, which is obviously a direct representation from Craig and Neil. A lot of the way that we have interpreted the characters just happens to be incredibly similar to the game, but there was a sense of freedom with it.
Everyone took as much liberty with that as they wanted to, or felt they should, but also you feel like you begin to know them. That familiarity draws it really close to the game because you get to know them in the same way as whoever played them in the game.
Did your relationship with your own parents inform your performance as Sarah?
Not really, but I think it made me appreciate my dad more. Because I'm like crying in Pedro [Pascal]'s arms and then I'm miles away from my dad, who's in London while I'm filming in Calgary and I'm going "I miss my dad!" So I think that was a great takeaway.
But I think it's very different. Sarah very much kind of cares for Joel and takes charge and responsibility in a way that I absolutely do not have [with] my own parents.
The Last of Us premieres January 15 on HBO.