The Boys Season 3 release date, time, plot, cast, and trailer for Amazon's superhero series
Our favorite anti-hero squad is back with a barrage of brutality, bullets, and blood.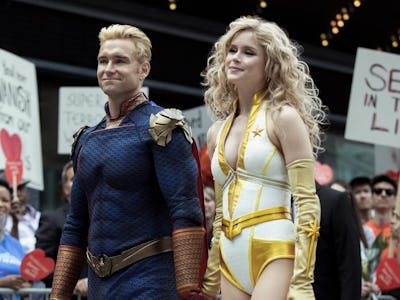 It feels like forever since we've ridden shotgun with Billy Butcher and his rowdy posse of unhinged vigilantes bent on keeping Vought International's unsavory band of corporate superheroes in check.
2020's Season 2 of The Boys was an explosive outing with craniums bursting and a duplicitous foe unveiled as a metahuman antagonist with anger issues. Vought International barely slithered out of the Compound V scandal, Hughie asked the director of the Federal Bureau of Superhuman Affairs, Victoria Neuman (Claudia Doumit), for a job, totally unaware that she's actually a prolific assassin, and after kidnapping Homelander's son Ryan, Butcher placed the superpowered kid with Grace Mallory (Laila Robins) for protection.
On the brighter side, Mother's Milk was reunited with his wife and daughter, and Frenchie and Kimiko embarked on a vacation to enjoy a bit of dancing. So buckle up for a bumpy ride, and let's unpack all the details of what Season 3 will bring.
When is The Boys Season 3 release date?
The Boys Season 3 airs exclusively on Amazon Prime Video starting Friday, June 3, 2022, with a trio of episodes slated to drop.
What is the release time for The Boys Season 3?
Amazon Prime Video releases new movies and TV shows at midnight Pacific, which is 3 a.m. Eastern. There have been instances when new programs landed a few hours early, so keep tabs on Friday for a possible early start time.
How many episodes is The Boys Season 3?
The Boys Season 3 will consist of eight episodes, with the first three dropping on June 3, 2022 and the other chapters arriving weekly, ending with the season finale on July 8, 2022.
What is the plot for The Boys Season 3?
Billy Butcher is now employed by the government, with Hughie acting as his direct supervisor. But this really isn't their style, and both men are yearning to get back on the streets to inflict untethered justice. When The Boys get word of a mysterious new anti-superhero weapon with frightening consequences, they put the band back together and embark on a collision course with Homelander and The Seven that leads to the legend of Soldier Boy, the world's first official costumed superhero.
Who stars in The Boys Season 3?
Season 3 of The Boys is an amalgam of new and old characters. For the confirmed fresh faces, Jensen Ackles (Supernatural) will portray Soldier Boy, a Captain America-like superhero who served in World War II and was officially considered America's first superhero. Other newcomers include Sean Patrick Flanery (Dexter) as Gunpowder, Nick Wechsler (Revenge) as Blue Hawk, Miles Gaston Villanueva (Nancy Drew) as Supersonic, and Kristin Booth (Orphan Black) and Jack Doolan (Marcella) as TNT Twins Tessa and Tommy.
Laurie Holden (The Walking Dead) has also joined the cast as the red-garbed Crimson Countess, as has Katia Winter (Dexter, Sleepy Hollow), who will portray Russian mob kingpin, Little Nina.
Returning cast members include Karl Urban (Billy Butcher), Antony Starr (Homelander), Jessie T. Usher (A-Train), Karen Fukuhara (Kimiko), Nate Mitchell (Black Noir), Jack Quaid (Hughie Campbell), Laz Alonso (Mother's Milk), Erin Moriarty (Annie/Starlight), Chace Crawford (The Deep), Dominique McElligott (Queen Maeve), Claudia Doumit (Victoria Neuman), Giancarlo Esposito (Stan Edgar), and Tomer Kapon (Frenchie).
Is there a trailer for The Boys Season 3?
Yes, Amazon Prime Video delivered the most recent NSFW trailer on May 16, 2022. Check out Homelander losing his mind, Crimson Countess splattering bodies, Hughie taking the gloves off, Billy Butcher injecting a serum to level the playing field as a mutated enforcer with laser-blasting eyeballs, and a whole lot of baseball bats and bullets.
Will there be a The Boys Season 4?
Yes, Amazon Prime Video announced on March 22, 2022 that The Boys will get Season 4. Karl Urban has said he'll be busy filming throughout the end of 2022, so the pack leader will obviously survive Season 3's mayhem.
The Boys Season 3 premieres on Amazon Prime Video on June 3, 2022.