Miyazaki's Secretive Final Movie Returns to What He Does Best
We may not know much about Studio Ghibli's latest, but we now have an idea of what it looks like.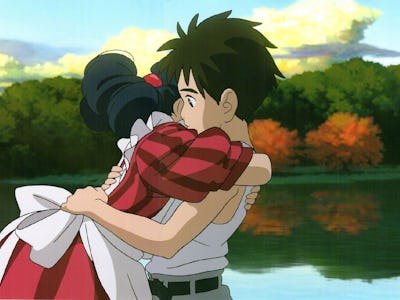 Studio Ghibli
Studio Ghibli movies are the definition of instant classics. No matter the genre or source material, if Hayao Miyazaki is involved, then the story is guaranteed to be emotionally affecting and a joy to watch, even if it's a tragedy.
But while the Studio Ghibli archive is now finding a second life on streaming in the U.S., the next movie is still very mysterious — until now, courtesy of four new images. Here's what the next Ghibli will look like and what that means.
The next Miyazaki movie is entitled How Do You Live in Japan, but the English release is entitled The Boy and the Heron. Given the artistic rendering of a bird on the film's poster, this seemed to be a much more literal title. With the release of four images by Fandango, it's clear there are plenty more birds in store for this movie.
It's not the first time that Studio Ghibli has taken flight. The last Miyazaki movie was 2013's The Wind Rises, an aviation-focused adventure biopic. From these images, it looks like The Boy and the Heron will return to the more fantasy-focused aesthetics of classic Miyazaki like Spirited Away and Howl's Moving Castle.
Just look at the teeth on that bird — the unsettling, almost body-horror-esque fantasy elements that permeate every one of these fantastical offerings are definitely present in this film. While there will definitely be a lot of heart, this is our first sign that we'll see another entry in a lush portfolio of fantastical fare.
There are still many unknowns surrounding this movie: there's no release date, no English dub cast, and, most notably, no trailer. But with a movie like this, a trailer isn't exactly necessary. It's a Miyazaki Studio Ghibli film — possibly his last one — and that's reason enough to see it.
If this movie is truly the fantastical adventure it purports to be, then that's just another reason any superfluous promotion isn't necessary.
The Boy and the Heron premieres in theaters later this year.