New Star Wars Shows Take Inspiration From The Matrix, Stranger Things
Inverse got a sneak peek at footage from The Acolyte and Skeleton Crew at Star Wars Celebration.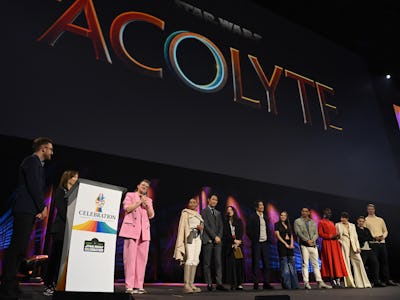 Kate Green/Getty Images Entertainment/Getty Images
Star Wars Celebration 2023 is being held this weekend in London, and is already a feast of revelations, guest appearances, and exclusive new footage.
After the exciting new announcement of three new Star Wars movies, Lucasfilm unveiled new footage of some of the most highly anticipated Star Wars TV shows. While the second season of Andor and the first season of Ahsoka already have a built-in fanbase, the two newest Star Wars shows — The Acolyte and Skeleton Crew — both had something to prove. And they did so by drawing inspiration from some of the most beloved sci-fi properties today.
Inverse was on the ground at Star Wars Celebration and got a sneak peek at the first footage from The Acolyte and Skeleton Crew.
The Acolyte Takes the Jedi Back to School
In sneak peek we saw of The Acolyte, Jedi Master Lee Jung-jae seemingly teaching a class of prospective Jedis, telling them not to trust what they see with their eyes. Amandla Stenberg's character then parries with Carrie-Anne Moss', after which we see a character in a gown, played by Jodi Turner-Smith. "This is about power and who's allowed to use it," one character says. At the end of the trailer we see Jedi characters played by Charlie Barnett, Dafne Keen and others brandishing their lightsabers, prepared to fight.
We know that the Leslye Headland series will delve into the perspective of the Sith, the Star Wars baddies, and that it is set between the time of the High Republic and the beginning of the prequels.
The footage looked extremely promising (with something of a Matrix feel, thanks to Moss' presence). And anything involving Headland, one of the brains behind the marvelously bonkers Russian Doll, is bound to be interesting at the very least.
The Acolyte is set to debut in 2024 on Disney+.
Skeleton Crew is Stranger Things Meets Goonies
The Skeleton Crew footage has a distinctly Stranger Things vibe, whether it means to or not: we see a group of young kids at school and one asks if they want to go on an adventure. That tracks, considering the show has also been compared to The Goonies. After some shots of a range of funky aliens, we see that the kids are locked up in some kind of jail and that Jude Law, who appears to be a Jedi, may be able to free them with a set of levitating keys.
Skeleton Crew will introduce the world to young stars Ravi Cabot-Conyers, Kyriana Kratter, and Robert Timothy Smith.
Though all of the child actors were intensely adorable onstage, there was perhaps less excitement for this show than any other, due to the understandable impression that it might be skewed towards very young audiences. This doesn't mean that the trailer didn't look wonderful, just that Skeleton Crew has the hard luck to be competing against some shows that boast even more recognisable adults in lead roles. To be fair, however, with directors including the Daniels and Jon Watts, it's not going to go far wrong.
Skeleton Crew will be released on Disney+ some time in 2023.