Andor Season 2 Footage Teases the Rebellion's Darkest Moments
The second and last season of Andor will take the Rebellion straight to the first shot of Rogue One.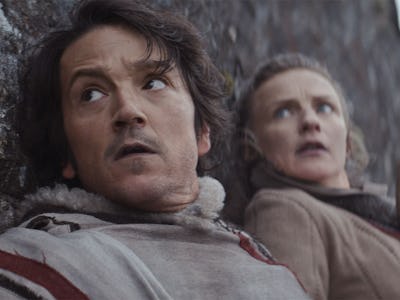 Andor injected new energy into Star Wars, thanks to its somber look at the realities of rebellion, and its thrilling heist-film inspirations. But what might possibly be the best thing to come out of Star Wars must soon come to an end. Andor creator Tony Gilroy confirmed on the first day of Star Wars Celebration 2023, held this weekend in London, that the highly anticipated second season of the series will also be its last.
The final season is currently in production, but that doesn't mean that Gilroy and co. didn't have anything to show the eager fans waiting with bated breath for news of Cassian Andor's (Diego Luna) continuing journey as a newly-minted Rebel. Inverse was on the ground at Star Wars Celebration and got a peek at the first footage from Andor Season 2.
Andor Season 2 Footage
Not a great deal was revealed in the two-minute footage of Andor Season 2 but the clip did signal the return of the antagonistic Syril Karn in new clothing, hinting that he may have (finally) moved up in the world. The footage also showed Diego Luna's character, Cassian, with new hair and possibly regal uniform. There were also signs of another battle on Ferrix. "If we do not stand together, we will be crushed," says Mon Mothma.
After the Lucasfilm showcase, Gilroy and the Andor cast and crew gave Celebration attendees a behind-the-scenes glimpse at the making of Season 1. There, Gilroy confirmed that the final shot of Andor will lead directly into Rogue One, according to /Film.
"Our final scene of the show, we've never made a secret about," Gilroy said. "We've been saying it from the very first junket — the final scene of the show is him walking to the ship to go to the Ring of Kafrene, walking right into [Rogue One.] So we're taking you right to that moment."
Tony Gilroy seems to know what he's doing, and this brief snapshot of Season 2 did nothing to disavow that impression. Nothing seems to suggest that Andor will end its run on anything but a high.
The final season of Andor should finish filming in the summer of 2023. It will debut in August 2024 on Disney+.