Superman Legacy Just Remixed a Decade-Old Fan Casting
Nathan Fillion is finally a Green Lantern — just not the one you might expect.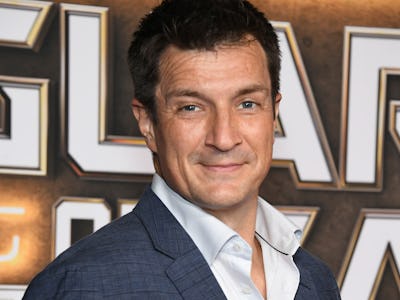 Jon Kopaloff/WireImage/Getty Images
Superman: Legacy may be all about the Man of Steel, but he won't be the only one suiting up in the film. According to The Hollywood Reporter, DC will introduce its new Superman (David Corenswet) to a world where heroes already exist. And as writer-director James Gunn works to round out Legacy's supporting cast, an interesting line-up is taking shape.
Legacy has added three new names to its cast. Per Vanity Fair, Isabela Merced, Edi Gathegi, and Nathan Fillion are joining the project, each playing heroes with major comic book history. Merced is Hawkgirl, Gathegi will play Mister Terrific, and Fillion is Green Lantern Guy Gardner.
That Fillion has been cast in Legacy isn't exactly surprising. The actor is one of Gunn's most consistent collaborators: he's appeared in almost every Gunn-directed project, including Slither, The Suicide Squad, and Guardians of the Galaxy Vol. 3. He's also got a long history with the Green Lantern Corps, having lent his voice to better-known Lantern Hal Jordan in DC's Animated Universe. Fillion was one of the top names among fans to bring the character into live-action; he was even the face of a viral Green Lantern fan film a few years back. Though his dream casting never came to fruition, Guy Gardner may actually be a better fit for Fillion.
Gardner is a deep cut. He's not the second or even third most recognizable member of the Lantern Corps, but his brash temper and distaste for authority have made him something of a cult favorite. He's a complex character, even compared to Hal Jordan or John Stewart, which makes it interesting that Gunn would choose this particular Lantern as the first to appear in DC's new cinematic universe.
Jordan and Stewart are set for their own Lanterns series, so fans won't have to wait too long to see them in live action. That Gardner will pave the way for them, and serve as an introduction to the Lantern Corps, reveals a lot about Gunn's intentions for Legacy. The character will likely embody Gunn's trademark off-beat humor; Fillion has already demonstrated his grasp on comedy, especially in Guardians 3. He's also committing to Gardner's most ridiculous traits, as Gunn recently confirmed that Fillion will sport the character's iconic bowl haircut. We'll have to wait and see what else Gunn has planned for the Lanterns, but things are shaping up nicely for his DCU.