Hulu Just Quietly Released the Best Superhero Show of the Year
A clever K-drama is the perfect cure for the new age of superhero nihilism ushered in by The Boys.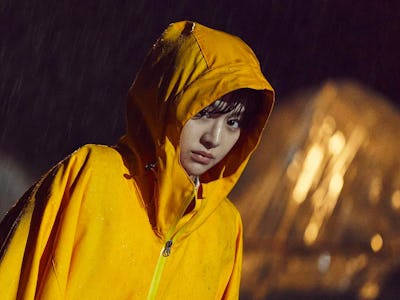 Hulu
To say that superheroes are "in" right now might be the understatement of the decade. Marvel's cinematic universe has dominated Hollywood for 15 years, and though its influence is finally starting to wane, its rivals have had plenty of time to curate a counterculture. The age of straight-laced heroes may be nearing its end, but shows like Watchmen, The Boys, and Invincible are finding just as much success by using supes to deconstruct the realities of power and abuse.
The Boys has been carving out its own cinematic universe on that premise alone. The ultraviolent series knows how to subvert the past few decades of superhero supremacy better than most, and its efforts to bring it flush against our present-day dystopia have already sired two spin-offs. This month, the diabolical world of The Boys gets that much bigger with the premiere of Gen V, a college-set series that will finally bring teen supes into the fold (as if things weren't chaotic enough).
As much as heroes have saturated the zeitgeist, serialized superpowered coming-of-age is still an elusive subgenre. While Invincible partially fills that void, and the X-Men prequels kind of scratched the itch, Gen V has its work cut out for it. Hopefully, the spin-off can stick the landing, but until then, Hulu's latest Korean drama has the story that needs telling right now.
Hulu has been quietly dominating the genre circuit with series like Extraordinary and Big Mouth, and Moving continues that trend. The 20-episode series is nothing if not high concept: it straddles past and present to tell a multi-generational story about superpowered mercenaries and their kids. But it helps that the heroes of this story — as well as the villains — feel more grounded in reality than those dominating other superhero blockbusters.
It all begins with Kim Bong-seok (Lee Jung-ha), a hopelessly endearing high school senior who literally dreams of flight. He spends his waking moments trying to conceal his latent abilities, and his mother, Mi-hyun (Han Hyo-joo), loads his backpack with weights to keep him from floating away.
Bong-seok, adorably, defies gravity whenever he's happy, and the presence of a new girl at school, Jang Hui-soo (Go Young-jang), only makes it more difficult to control his powers. As he grows closer to Hui-soo, they learn that they've got more in common than meets the eye. They're not the only enhanced kids at school, either: there's also the steely president of their class, Gang-hoon (Kim Do-Hoon), who works closely with staff to keep the peace and monitor students like Hui-soo.
As the series builds to their imminent graduation, a quiet battle rages in the real world. A U.S. agency is hunting down supes on Korean soil, souring relations between the two nations. Word of these murders ruffles the overprotective Mi-hyun, and when Moving flashes back to the '90s, the series' intricate conspiracy — and Mi-hyun's particular paranoia — begins to click.
Bong-seok, Hui-soo, and Gang-hoon make an effective trio in Moving's first timeline, but their parents are equally compelling in the second. Through them, we learn of an elite superpowered black ops squadron, controlled by the Korean state and trained to sacrifice everything for the nation. As Moving flicks back and forth between past and present, we see how their eventual disillusionment with the program fueled the tensions their kids will have to deal with.
An increasing appetite for the political tensions of the past muddies the heartfelt core of this series, but even at its lower points, Moving is something of a phenomenon. Disney poured a lot of money into it, making it one of the most expensive K-dramas of all time — and one of the highest watched. But it's not the crisp VFX that turned the series into an overnight sensation. While the visuals are admittedly stellar (especially compared to recent efforts by Marvel and DC), it's the endearing characters and grounded familial themes that make Moving worth the watch.
Hollywood has been enamored by cynicism for years now, and gritty superhero dramas have embraced the trend with gusto. Properties like The Boys are uniquely qualified to explore societal foibles through a genre lens, but it's only a matter of time before all that smirking, blood-soaked mayhem gets too depressing to bear.
That's what makes Moving such a welcome break from this new normal. It's not afraid to be earnest, but it doesn't skimp on pulpy thrills, either. It may drag its conspiracy on for a touch too long, but the heroes at the center of the series are enough to keep you coming back for more.
Moving is streaming on Hulu.