A Delightful New Hulu Show Finally Figured Out the Superhero Sitcom
A coming-of-age comedy, but with superheroes.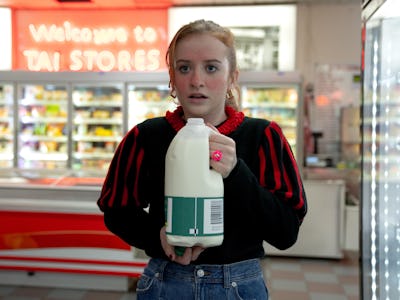 The superhero sitcom is modern television's white whale. Many dramas have found a way to incorporate humor, like Amazon's hit superhero series The Boys. In the Marvel Cinematic Universe, comedy is best done either as a parody like in WandaVision, or with a full metatextual bent like in She-Hulk: Attorney at Law. But the closest modern TV has come to fully embracing this niche subgenre was the 2017 NBC sitcom Powerless, which was unceremoniously canceled after only nine episodes.
However, a new series on Hulu strikes the perfect balance between action and comedy, and its mix of clever worldbuilding and coming-of-age drama might make it one of the best shows of 2023.
Extraordinary has a simple premise: in a world where everyone gains a superpower at some point after they turn 18, 25-year-old Jen (Máiréad Tyers) is living in London and trying to make her way in life while still trying to trigger her power. Her best friend, Carrie (Sofia Oxenham), is a conduit for the dead and works for a law firm solving will disputes, and her boyfriend Kash (Bilal Hasna) can rewind time, but Jen is powerless, jobless, and unsure how to be an adult.
Jen's story is a combination of The Boys' superpowers-in-regular-life premise, the young dirtbag perspective of Girls, and the feel-good ensemble comedy of New Girl, all with the tone (and Irish accents) of Derry Girls. It's a lot of influences to juggle, but the show pulls off the balancing act admirably.
Extraordinary covers ground that so many superhero stories don't bother to touch, like how useful superpowers would be in the mundanity of life. When we first meet Jen, she's in a job interview. The interviewer has the power to make everyone around her tell the truth, so viewers learn a lot more about Jen than they need, from why she was late to her bathroom habits. She doesn't get the job.
We see Jen as she adopts a stray cat/shapeshifter named Jizzlord, works a dead-end job at a party store with a manager who always looks like a child, and does whatever she can to spark her power. There's a clinic that promises to help cases like hers, but it costs a lot of money for a floundering 20-something.
Jen is the beating heart of the show, but the supporting cast is just as interesting. Carrie uses her powers to raise a dead country singer from the dead to record an album and channels King Charles II to help a biographer with his fact-checking, only to start developing a crush on the monarch. Kash tries to start a vigilante group, which leads to the realization that he's a huge coward. Even Jen's mom (Derry Girl's Siobhán McSweeney) is instantly charming with her power to control technology despite her inability to understand any devices.
The dialogue is sharp and refined, while the worldbuilding feels just as real as any other sitcom. Adding to the cool Gen-Z-ness is the soundtrack, which brings post-punk and alternative hits from across the past 20 years to the forefront.
Extraordinary is what the post-MCU generation of superhero shows looks like, and it's arguably the future of coming-of-age shows as a whole. The kids who grew up idolizing Iron Man and being told they all have special gifts are now coming to terms with the fact that it's alright to take some time to figure things out. Extraordinary is the perfect encapsulation of that feeling, mixed with the VFX-laden influence of blockbusters and a whole lot of crude jokes, the perfect cocktail for the twenty-something of 2023.
Extraordinary is streaming on Hulu.