The Best Action-Comedy of the Year Mixes Scott Pilgrim With Ms. Marvel
It's the Khan sisters against the world in Polite Society.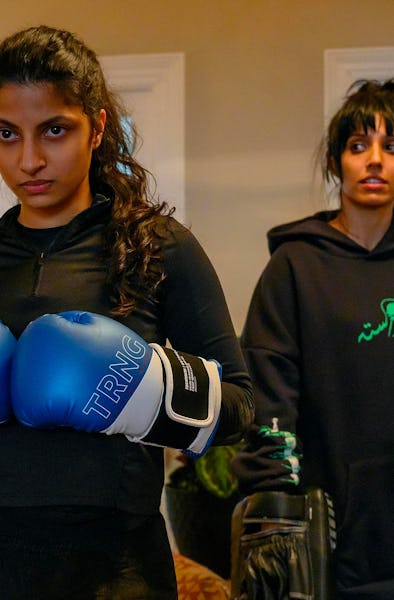 Focus Features
The 2020s are the decade of derivation. It feels like everything has already been done, remixed, subverted, or homaged, but that doesn't mean new movies can't still be original. A new crop of filmmakers have even found clever ways to wink to the past without copying the textbook: Everything Everywhere All At Once is the classic example of "exploitation" done right.
Now, Polite Society is the latest to wear its influences on its sleeve. It's a film that pulls from a true melting pot of influences, from Jane Austen novels to '90s girl power flicks like Bend It Like Beckham. But it is first and foremost a tale of two sisters, and that's its secret weapon.
Umbrella Academy's Ritu Arya is Lena, the eldest sister of the Khan family, even if she doesn't act like it. Since dropping out of art school, her unflappable younger sister Ria (Priya Kansara) has been her biggest source of support; if only her unquenchable inner fire were so contagious. Ria, more than anything, wants to become a stunt woman. She attends martial arts classes with a bewildering determination and choreographs her own "Khan-fu" sequences to throw up on her YouTube channel (with Lena's help behind the camera).
Neither are on the path their parents, or any member of their tight-knit South Asian community, had in mind for them. It's the Khan sisters against the world... until Lena falls in love with handsome geneticist Salim (Akshay Khanna), leaving Ria in the dust.
Polite Society wastes little time putting us in Ria's headspace. To lose a sister or close friend to a man's attention can feel like a betrayal on the grandest scale, and director Nida Manzoor (of We Are Lady Parts fame) infuses this splintering of sisterhood with a bevy of genre references. Sure, Ria is put off by the speed of Lena's courtship with Salim — they don't date for very long before they're engaged — as well as her abrupt change in style. That Lena suddenly trades her extra-large hoodies for "bastard cardigans" and white jeans is just the first of many red flags. But it's her future mother-in-law, the prim and smirking Raheela (Nimra Bucha), that really sets Ria off.
In Salim's optics-obsessed mom, Ria sees a villain on par with James Bond's most diabolical antagonists. Lena's not cut out to be some well-to-do doctor's trophy wife. She's an artist, and Ria has worked hard to affirm her talent and calling. Her engagement tells Ria she's giving up on her dreams, instead choosing the traditional route, and that's a fate even more terrifying than anything that goes down in Get Out (though body-snatching themes could also come into play; nothing's off the table in Polite Society).
Ria's attempts to separate Lena from her new beau prove fruitless, though she tries everything — from a handful of wacky, Edgar Wright-inspired heists to good old-fashioned blackmail — to save her sister. Her very last bid for Lena's freedom will culminate at her wedding, where Manzoor and her collaborators crank the genre references up to 11. This film really does have everything: wire-fu combat, some quirky English humor, and dazzling homages to some of Bollywood's greatest hits. A suspension of disbelief may be required for its many logic-defying sequences, but Polite Society isn't the first film to take a kitchen-sink approach to its disparate influences and tones.
Quirky genre mash-ups are nothing new. What separates Manzoor's feature debut from the pack is the effortlessness and exuberance behind every wink and nod. That so much of it rests on Ria's shoulders is a huge part of its charm: maximalism and mayhem feels right in an angsty coming-of-age.
Through Polite Society's flawed teen protagonist, Manzoor tells a story of reclaiming one's inner child. Comparisons to superhero series Ms. Marvel are inevitable, but the former has something the Disney+ series doesn't: a refreshing dose of sisterhood. Ria's relationship with Lena remains the film's focal point, although when their bond is too strained, Ria still has two hilarious friends to fall back on, and a school bully to spar with. Ms. Marvel baddie Nimra Bucha is also in great form as Raheela: she's able to chew even more scenery and deal just as many blows.
As tempting as it may be to compare them, it's great to live in a world where two specific tales about the South Asian experience can occupy adjacent genres. Polite Society exists alongside Ms. Marvel, and both are incredible additions to the canon. Even today, filmmakers are still finding new aspects of femininity to explore, and it's all the better when they use old themes and aesthetics to tell a compelling new story.
Polite Society is streaming on Prime Video.