Every New TV and Movie Trailer revealed at the 2023 Super Bowl
All the must-see moments for those who just watch the commercials.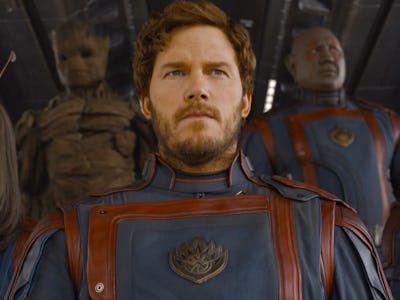 The Super Bowl also happens to be the Super Bowl of new movie and TV trailers. From long-standing franchises like Marvel and DC to possible new power players like Dungeons and Dragons and one-off adventures like Cocaine Bear, the Big Game is the perfect place to reveal new looks at the most anticipated releases of the year.
We'll likely see many trailers that have already been released online. But knowing how huge the viewership (and the price tag) of Super Bowl ads are, we'll likely see some surprises as well. Below, you'll find every single TV and movie trailer we care about from the 2023 matchup. And keep refreshing this page because we'll be updating it in real-time all night long.
1. 65
Ever wonder how Adam Driver would fare in prehistoric times? 65 explores this premise in theaters starting March 10.
2. Cocaine Bear
From the twisted mind of director Elizabeth Banks, Cocaine Bear is based on a true story of a cocaine-consuming bear, and promises a lot of ursine thrills with a star-studded cast including Keri Russell, Matthew Rhys, and Margo Martindale — a mini The Americans reunion!
3. Transformers: Rise of the Beasts
Hamilton and In the Heights star Anthony Ramos plays Noah Diaz, the unwitting Brooklynite who finds himself mixed up with a new generation of Transformers in Transformers: Rise of the Beasts. You can check out Mirage and others in theaters June 9.
4. Guardians of the Galaxy Volume 3
This brand-new trailer for Guardians of the Galaxy Vol. 3 isn't actually what aired during the Big Game — instead, a trailer for this trailer was shown. But with a Marvel movie of this caliber, that's pretty excusable.
5. Fast X
The tenth movie in the Fast Saga is borrowing some key talent from other cinematic universes: namely, Jason Momoa and Brie Larson. But rest assured, Vin Diesel is far and away the star of this upcoming blockbuster. Just watch him blow up the Hoover Dam!
6. Indiana Jones and the Dial of Destiny
"Are you still a Nazi?" Those words could only come from the man who only hates snakes more than he hates Nazis — Indiana Jones. Take a look at the new spot for the upcoming five-quel, starring Mads Mikkelsen, Phoebe Waller-Bridge, and John Rhys-Davies.
7. The Flash
The controversy-laden Flash-focused DC movie is finally able to prove its mettle and it certainly whips out the big guns. Yes, Michael Keaton is there, but so is Michael Shannon, reprising his role from Man of Steel.
8. Creed III
Michael B. Jordan steps behind the camera for the third chapter in the Creed journey, in theaters March 3. The threequel puts Creed up against his childhood friend played by Jonathan Majors — Kang the Conqueror himself.