The Black-Owned Comic House Fusing Westeros With Wakanda
"I started creating this world to do what I think everyone wants: see themselves reflected," Stranger Comics founder and president Sebastian A. Jones tells Inverse.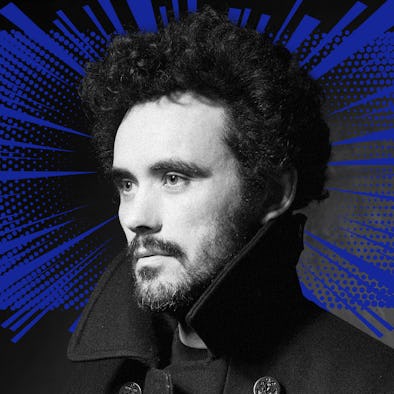 Lais Borges/Inverse; Photo by Tyler Shields; Getty
In the mid-'90s, Sebastian A. Jones was a young, mixed-race record producer in Los Angeles dreaming of something bigger. After spending the last decade mapping out the fantasy world of Asunda, a realm that filters the lore of a J. R. R. Tolkien novel through the prism of the African diaspora, he was ready to pitch his vision to Hollywood. Unfortunately, this was the '90s, and Hollywood wasn't interested.
"A couple of [studios] were like, 'Oh, this is primarily Black,'" Jones tells Inverse. "Because it focused on a Black female lead, they didn't want to fuck with it. Some were like, 'If you change the girl to a white boy, I'll make it.' Others were like, 'This would look good during a Black History Month announcement.'"
Jones says he actually considered a few offers, but ultimately couldn't stand to see a character he spent decades creating placed in the wrong hands. "I realized that in order to protect the integrity and the vulnerability of Niobe, I'd have to start another company."
Niobe is the name of Jones' heroine, a young Black warrior inspired as much by Eowyn of Lord of the Rings as she is by Pam Grier's Coffy. Even now, a Black female-led adventure feels like, well, a fantasy, but in 1996, before Blade, Black Panther, or even The Woman King, it was a total non-starter. But that's just as well. The company he started, Stranger Comics, has gone on to influence a real revolution in fantasy spaces. It's still going strong today, with plans to expand beyond comic books into TV and beyond.
Speaking to Inverse from his home in Los Angeles, Jones candidly shares anecdotes from his recent trip to Comic Con Africa alongside well-hewn reflections on art and commerce. Since 2007, he's served as protector of Asunda, and even when Hollywood finally did come crawling back, his commitment to his world, and to Niobe, always comes first. He's gotten this far on his own, and he's not afraid to stay that way until the industry catches up to his vision. Check out the full interview below.
This interview has been edited for brevity and clarity.
You've been building out this world of Asunda for, I want to say, 30 years. This has accidentally been a huge part of your life for so long.
Accidentally is right. I grew up in England and I was always into Dungeon & Dragons and live-action role-playing in the woods with swords and stuff. At the same time that I was discovering James Brown's "I'm Black and I'm Proud" and hip-hop, I was discovering Lord of the Rings and D&D. I started creating this world to do what I think everyone wants: see themselves reflected.
In addition to that, I wanted to hide in this world, away from the reality I was dealing with. I felt very vulnerable, so I created a character that I could kind of pour my own vulnerabilities onto, as well as my wrath, my anger, and my defiance. That became Niobe. As I grew, she grew with me. I played D&D more and more. My social influences became more militant and less mainstream. Then I moved to America by myself when I was 18. I spent my formative years in Los Angeles, just fleshing out the world of Asunda.
"This would look good during a Black History Month announcement."
I eventually had this idea for a movie and a comic book. It was a way to introduce Niobe to an audience. I had written a script, a 300-page, unreproducible monstrosity, and I started shopping it around to various companies. This one producer read it and was like, "Yeah, it's really bad… Apart from the fact you're a really good storyteller. Can you create something, not massive, but contained?" I eventually wrote a script and shopped it around again. A couple of them were like, "Oh, this is primarily Black…" Because it focused on a Black female lead, they didn't want to fuck with it. Some were like, "If you change the girl to a white boy, I'll make it." Others were like, "This would look good during a Black History Month announcement."
What year was this?
This was around 1995, 1996. A few companies made me offers, but it all felt so hollow and vapid — kind of how it is still to this day. It was a struggle, this juggling of morality where someone's dangling money in front of you, and you need money. But I realized that in order to protect the integrity and the vulnerability of Niobe, I'd have to start another company.
The cost was pretty dear, on a very real, personal level. We started with nothing, but the pitch I started with became The Untamed, which was essentially like a spaghetti western in fantasy. I introduced Niobe in that storyline, and I put everything I had on the line to start Stranger Comics. That pitch really got nurtured, and eventually helped us get an HBO deal many, many years later.
Asunda is built around one character, Niobe. How would you describe her to someone who's coming in cold to this world?
I sometimes just jump right into the pitch of The Untamed, as that's how we first meet Niobe. It's the story of a man who's stuck in purgatory. After 10 years, the Devil comes along and he says, "I'll give you seven days to reap the seven souls that murdered you and your family." He takes a drifter's return to a one-horse town in a huge world. On his path of vengeance, he meets a little elven girl called Niobe. She's about the same age that his daughter would've been had she lived, and she gives him a second chance to be a good man, a father. The kicker is: what if she's one of the seven souls he has to collect, and the Devil set the whole thing up just to find her?
"Eventually, we'll have She is God, where she binds nations against the Devil, her father."
She goes on a real journey after The Untamed, in Niobe: She is Life and She is Death. As her armor of innocence is chipped away, she has to steel herself against the ugliness of the world, and hold true to her faith and her fighting. Eventually, we'll have She is God, where she binds nations against the Devil, her father.
You've partnered with a few actors to further Niobe's story. How did you first recruit Amandla Stenberg to co-write Niobe: She is Life?
I wrote a series of kids' books with an actress named Garcelle Beauvais, and there was an event for this one book, I Am Mixed. I was doing a reading at this event, and I see Amandla there and I'm like, "Oh my God, that's that girl from The Hunger Games. I can imagine her being Niobe." She was 15 at the time. I ran up to her and said, "You've got to be Niobe. I've got to show you my comic book. It's fantasy. Do you like fantasy?"
I gave her The Untamed and said, "I've been trying to work on this storyline with a young Black girl to help with the authenticity of who Niobe is." Niobe's age mirrored Amandla's age, and Amandla is also mixed. She just dove right into the world. It just felt meant to be. We found an artist named Ashley A. Woods to create the art. It became the first nationally distributed comic book with a Black female author, artist, and hero in history.
Suddenly all these things were converging on this little company. All those dudes from the past were like, "Hey, remember I told you I'd make your movie if you made this?" I'm like, "Yeah, I remember. I'm good, thank you." I was still broke as shit. But I just believe in honoring the process. With the stories that we tell, sure, I want to make a living and support my family — but I believe that art is sacred. So that's how we kind of rock.
You recently worked with Thuso Mbedu for another Niobe story, She-Tribe. What did she bring to the world of Asunda?
Thuso's from South Africa but she lives in LA now — five minutes away from me. So we went and had a cup of tea. And next thing you know, we're creating. She's literally one of the most intelligent people I've ever met, and she'd read all the books to the degree where she was planting seeds for other potential storylines in other future books. She really honored the character and the world in the most sincere and elegant way. I love her to death.
When we went to Comic Con South Africa, she happened to be there, so we literally were on a panel a few days ago in Johannesburg, talking about our book. There were people out there who knew Niobe, and it was mind-blowing. I was introduced to a bunch of artists through this platform called Afro Geek. And these guys were like, "I can't believe I'm meeting you. You're a legend. Can you meet my mom?" So I was feeling very emotional, very touched, and very old.
I loved Thuso in The Woman King. That film felt like something I had been waiting for for a long time, and I know so many Black women feel the same way, searching for themselves in media. Do you ever feel pressure to represent Niobe's story authentically?
I don't. What I do feel is responsibility. I couch this with trepidation because I never want to come across as some righteous-sounding geezer dude. But I don't do anything, and I never will do anything, for a hashtag or to chase a trend. I don't care about validation. These are the stories that need to be told. Whether Black Panther came out and everything went suddenly big or it didn't, it would not change one thing about how I honor these stories in this medium. God willing, Asunda inspires TV shows and movies and video games and things — but if it doesn't, at least it's inspired the young guys I met in Johannesburg. Maybe it'll fan the flames for someone else to create, and that's OK.
Circling back to your HBO deal, are you still developing an Asunda series with them?
We are not at HBO anymore, but I was super honored to be there. That experience was a huge blessing and learning experience. Had an incredible time, and met some amazing people. And luckily, during that time, I managed to partner with this incredible filmmaker named Prentice Penny, who is the showrunner of Insecure. He and I are producing a couple of things together now. We started our own company together called Payback, which the comics will flow through, and he and I will produce the shows. Prentice actually helped me co-write one of the new comic books that we have called Niobe & Dura, which shows the origin of the world of Asunda.
You strike me as someone who's like, "This is what I want to do, and if I'm working with someone that doesn't kind of see that or acknowledge that, then I'm going to do it by myself."
Yeah… that sounds like I'm a control freak, but … Well, here's the thing. When people come into this massive world, it can be difficult. "Who is Niobe? Who do I resonate with?" When I work with people like Thuso, who breathe new life into Niobe's story, I'm not a control freak. I believe in the democratic process, and I believe that the best idea ultimately wins. Sometimes, you get lucky. But ultimately, I have to have the final say, because this is my vision.
It's your baby.
Yeah. You understand too that a baby's gotta grow up and go to college, and you have to trust your baby with other people. But sometimes when you work with people in a fantasy space, they have trouble letting go of their own influences. They've grown up watching Game of Thrones or Lord of the Rings or Harry Potter, so they'll bring that influence to their approach to dialogue or whatever. But I think I have my own voice, and hopefully, the people that want to play in that world can recognize that.
In 10 years, what's your hope for Stranger Comics? Do you have a concrete plan?
I do. Yeah, I want to find someone to run this shit. I'm in the Bahamas. You'll be sending me emails like, "Hey, I just read the new thing." I'll be like, "Oh, great. Is it good?" [Laughs] My hope for Stranger Comics is all the things: movies, TV, video games. And the world can, hopefully, get as nourished as I have been with creating it.
Inverse's 2023 Superhero Issue celebrates the unsung heroes of our favorite stories — in the pages of comics, behind the camera, and everywhere in between. Guest edited by Iman Vellani.