57 Years Later, One Underserved Star Trek Character Finally Gets Justice
In Strange New Worlds, Uhura has become the person Nichelle Nichols always wanted her to be.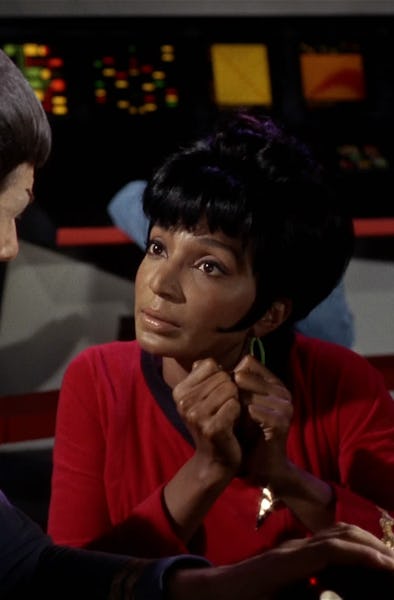 CBS/Paramount
Star Trek
We may receive a portion of sales if you purchase a product through a link in this article.
In the very first Star Trek episode ever, "The Map Trap," Lt. Uhura (Nichelle Nichols) says, "Mr. Spock, sometimes I think if I hear that word 'frequency' once more, I'll cry." Right from the beginning, The Original Series floated the idea that the Enterprise's communications officer was a little overworked and more than a little underappreciated.
Now, in Strange New Worlds nearly six decades later, Uhura isn't just getting her due but actually expressing herself, which is a powerful commentary on the character's history. Nichelle Nichols' Uhura was a huge step forward for Black representation in TV, but the character was never really given the spotlight.
In Star Trek's big musical episode, "Subspace Rhapsody," Uhura (Celia Rose Godding) is the driving force that saves the Enterprise, while in her big solo song, "Keep Us Connected," she reveals her inner frustrations about being alone and unseen. It's a powerful moment that honors the journey of Uhura, and Nichelle Nichols.
As Uhura realizes the subspace fold and the ensuing improbability field have the power to drive the crew apart, she wonders why she always ends up alone, working to fix the ship behind the scenes. "My whole life it's been 'do this,' and save you," she sings.
In a sense, this could refer to the character's innermost feelings throughout the franchise. Nichelle Nichols nearly quit The Original Series because she was tired of scripts being rewritten to give Uhura fewer and fewer lines. In her memoir, Beyond Uhura, Nichols wrote, "But even in the fictional, enlightened twenty-third century of Gene's [Roddenberry] imagination, a strong, independent Black woman was not welcome as equal." She was on the team, but she wasn't trusted to carry stories. Nichols recognized early that "Uhura's role was constantly being diminished."
That's obviously not the case today. Strange New Worlds isn't just an Original Series prequel story, but a series that does what TOS couldn't or wouldn't do in the 1960s. "We try to imagine what The Original Series would do today," co-showrunner Henry Alonso Myers tells Inverse. "The way the original show approached female characters, for example, we do differently."
For Star Trek fans, the power of Uhura was often symbolic. Nichelle Nichols used her influence in politics and science fiction circles to recruit some of the first women and people of color to NASA. The importance of Uhura to the real world cannot be understated. Even Martin Luther King was a fan of Star Trek and Uhura.
But within the Trek canon itself, we've rarely had a sense of how Uhura feels about her role as a communications officer, the person tasked with keeping everyone together. Celia Rose Gooding is a fantastic singer, and "Keep Us Connected" is almost certainly the breakout hit from the musical episode. It honors the character, and how the way we think about her has evolved.
"Nichelle's inspiration is always something we've used as fuel," co-showrunner Akiva Goldsman tells Inverse. "But this is about character. And these are heart songs. These are the things the character couldn't say in words, so they say in song. And for Uhura, that means you're seeing something essential about her character. And, I guess, that's what you're seeing; our Uhura has some Nichelle in her. And nobody does that better than Celia."
Star Trek: Strange New Worlds Episode 9, "Subspace Rhapsody" streams on Paramount+. The album itself is now on Apple and Spotify.