Strange New Worlds Cast Reveals How They Just Set Up A Classic Star Trek Episode
Has the stage finally been set for a TOS classic?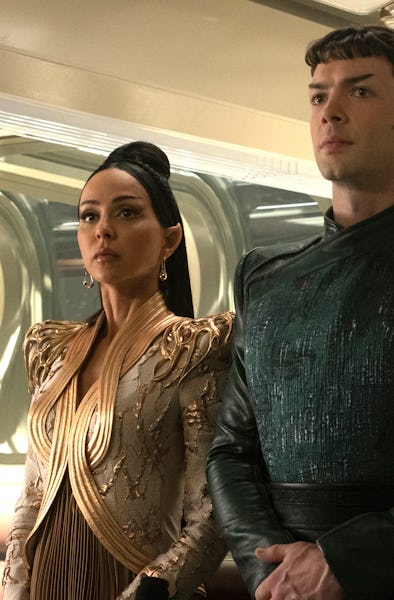 CBS/Paramount
The Inverse Interview
We may receive a portion of sales if you purchase a product through a link in this article.
In Strange New Worlds Season 2, a strange, new tradition has been established. In the fifth episode of the season, Spock will get to be hilarious.
Last year, with "Spock Amok," fans were treated to Freaky Friday-style body-switching hijinks with Spock and his fiancée T'Pring. And this year, Spock-centric humor-action continues with the episode "Charades." This time, Spock is accidentally turned completely human by a random alien intelligence, right before his engagement dinner. The result is a very funny, heartfelt episode of Star Trek, but also brings Strange New World's big love triangle storyline to fruition. After this, there's no going back for Spock and Nurse Chapel, and the situation with Spock and T'Pring might now lead directly to the classic The Original Series episode "Amok Time."
To sort out all the hijinks, and to give a unique insight into why this episode is so funny and so serious simultaneously, Inverse caught up with Ethan Peck, Jess Bush, and Gia Sandhu — Spock, Chapel, and T'Pring — as well as the director of the episode, Jordan Canning, to see just how "Charades" fits into the bigger Star Trek story. Spoilers ahead.
In Star Trek: The Original Series, Spock flirted with his human emotions perhaps way more than casual fans remember. The classic episodes "The Naked Time," "All Our Yesterdays," aspects of "The Menagerie," and, of course, "Amok Time," all find Spock having a variety of intense emotional outbursts. Despite the reputation Vulcans have for being cool customers, episodes in which Spock, or other Vulcans, freak out tend to define them. It's a funny paradox, but it's one that Ethan Peck — the incumbent Spock on Strange New Worlds — fully embraces.
"I think it provides such joy and glee to see his humanness because he's working so hard for it not to be seen," Peck tells Inverse. "There's always opportunities for humor with Spock because he's such an awkward goofball. You put anyone in a fish-out-of-water situation, and funny hijinks ensue. And that's just Spock anywhere."
But, in "Charades," the episode takes Spock's omnipresent fish-out-of-water status and cranks it up another notch. After being wounded in a shuttle accident, a super-advanced alien species "fixes" both Chapel and Spock, but, accidentally believes Spock should "match" Chapel, so he's rendered fully human, rather than half-human and half-Vulcan. "It's kind of Spock's teenage moment," director Jordan Canning tells Inverse. "But Ethan and I had to come up with 'Spock scale,' to make sure he didn't get too human. A zero would be fully Vulcan. A five would totally human. We'd never want to see a ten!"
For Nurse Chapel — who canonically is in love with Spock — this almost-human Spock presents a bizarre contradiction. In a way, this is what she's always wanted. Shouldn't she be happy?
"It's got that quality where a genie grants you a wish, but at what cost?" Jess Bush tells Inverse. "I mean, for Chapel, she really enjoys interacting with him. It's much easier. She sees that some of the roadblocks to connection might be lifted in that moment. But it's not him. It's not all of him. It's not the person she deeply cares about."
This thinking checks out with the classic Star Trek canon, too. It's not that Chapel loves Spock if he were fully human, she loves all of him. In the 1966 episode "The Naked Time," Chapel (Majel Barrett) says to Spock (Leonard Nimoy): "I'm in love with you, Mister Spock. You, the human Mister Spock, the Vulcan Mister Spock."
However, for, Ethan Peck, at this point in his time playing Spock, he's not reaching back (or forward?) to The Original Series for inspiration. "I haven't spent much time with Nimoy's Spock since before I was preparing for Discovery. A little bit before Strange New Worlds Season 1," Peck says. "He felt alive in me at the point we got to Season 2. I discovered something of Spock in me. The human Spock is me. Spock learns from Ethan, and Ethan learns from Spock. We're sort of inseparable."
Jess Bush also says she's not too worried about thinking about Chapel of The Original Series, because her take on the character is still pretty far away from that point, chronologically. "When I first booked the role, I was given the gist of my arc. But we build it as we go," Bush says. "There's an aliveness about it. At first, I didn't think [the love triangle] would stretch for this long. It's never really set in stone."
The third member of the love triangle, is, of course, the long-suffering T'Pring, Spock's fiancée first played by Arlene Martel in the TOS episode "Amok Time," and played by Gia Sandhu since 2022. In "Amok Time," we learn T'Pring was okay with Kirk possibly getting killed in a duel to the death, which made her seem like a cold-hearted villain. But in Strange New Worlds, with all of Spock's ridiculousness, the audience can kind of start to see where she's coming from.
"This is her redemption arc," Sandhu tells Inverse. "I think it would be so boring if she was just this villain from the beginning. I think what makes her compelling and interesting and relatable is the fact that she is been wronged. There are these huge secrets and emotional affairs that are going on that she doesn't know about. How would anyone feel if they were, if they were on the receiving end of all of that?"
Yes, Vulcans have feelings, they just repress those feelings. And, as Sandhu points out, T'Pring probably has more reason than any character in this situation to feel angry. By the end of "Charades," she tells Spock that, essentially, they need to take a break. In terms of the existing Trek timeline, Spock and T'Pring are still about eight years away from their botched marriage ceremony in 2267. And now, it seems Strange New Worlds has laid the groundwork in terms of explaining that long, grumpy engagement.
"I think right now in the story 'Amok Time' seems a lot more immediate than it did last season," Sandhu points out. "I'm not thinking about what happens next. I don't want to make those decisions for myself. Could more stuff happen before that moment? Or, could it end here and could we go to 'Amok Time?' Yeah, I think we could."