"Forging Something New." Why Star Trek Canon Is No Match for Strange New Worlds Season 2
Prepare for more friendship and more fighting.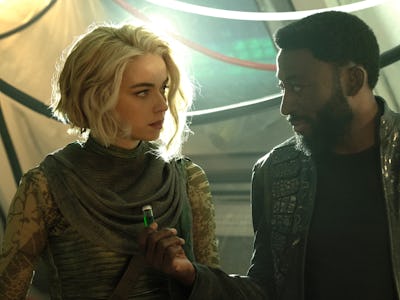 Michael Gibson/Paramount+
We may receive a portion of sales if you purchase a product through a link in this article.
In Star Trek: The Original Series, Nurse Chapel had a creepy ex-finance obsessed with robots, and Dr. M'Benga played second fiddle to Dr. McCoy. But for the current cast of Strange New Worlds, the baggage of their characters is the furthest thing from their minds. "We're not really too worried about it," Babs Olusanmokun tells Inverse of his portrayal of M'Benga. "We're really forging something new — with respect, of course, to what came before."
Like all sci-fi prequels, Strange New Worlds Season 2 has to walk a fine line between honoring retro canon and following its own path. Or does it? For the cast, whatever happens in the 1960s show doesn't impact who these people are now. And with Strange New Worlds Season 2 dropping on June 15, casual fans shouldn't feel like they have to do any homework, while hardcore fans can kick back and enjoy the ride.
For fans, one of the most appealing elements of Strange New Worlds is that it tends to focus on people more than sci-fi, with the friendships between the crew closer than they ever were with the crew of the 1960s Enterprise. M'Benga and Chapel have been close colleagues for a while, and have done things some fans will find shocking. Meanwhile, the connections between Number One and Captain Pike are deepened this season too, with Rebecca Romijn and Anson Mount agreeing their characters are kind of like "drinking buddies."
"Whenever Jonathan Frakes directs us in these two-hander scenes, he always has one note for us," Rebecca Romijn says. "He says, 'You're very old friends.' It's such a nice reminder, every time. We tend to think Pike and Una were old friends from their academy days."
The previous season ended on a cliffhanger in which Starfleet arrested Una for hiding her genetic modifications. Now, in Season 2, she'll go on trial, in just one example of how Strange New Worlds has the freedom to expand the stories of characters nearly six decades old. "For a legacy character, [Una] been kind of a blank slate," Romijn says. "Which is amazing, because you know, she was originated by Majel Barrett. It's fun to flesh her out. But, you know, I don't know where she's going. I'm still curious about more of her backstory. I think we're gonna get into more of that as we continue."
Speaking of characters originated by Majel Barrett, Jess Bush's take on Nurse Christine Chapel will raise some eyebrows this season, especially when it comes to her becoming a straight-up action hero.
"It's a very different flavor from Season 1. For me, anyway. It was a welcome change," Bush says. As fans will see, she and Dr. M'Benga throw down physically in a way we've never seen Starfleet medical staff do before. "I had a lot of fun co-creating some fight sequences with the trainers," Bush says. She also notes that her co-star, Babs Olusanmokun, "is an absolute weapon," as those who saw him fight Timothée Chalamet in Dune: Part One already know.
On the question of classic Trek canon, Olusanmokun's M'Benega is kicking even more ass than Booker Bradshaw did in The Original Series, but he doesn't think that's a big deal. "We really only had those two episodes, so there's not much to draw on," Olusanmokun says. "I watched the show as a child, so it's very close to me. But, I think this is something new, something of substance, the way Star Trek usually is."
The bottom line is that if fans thought there was a lot of action last year, Strange New Worlds Season 2, is super-charged. And in that way, the series is very much like The Original Series, a show in which it was rare for Captain Kirk to not get in a fistfight.
"Let's put it this way," Jess Bush says. "We're very much on the move."
Star Trek: Strange New Worlds Season 2 hits Paramount+ on June 15, 2023. All of Season 1 is streaming FOR FREE on YouTube until June 30, 2023.