The Next Star Wars Movie Might Be Like Nothing You've Seen Before
Can the creator of Peaky Blinders get Star Wars out of its funk?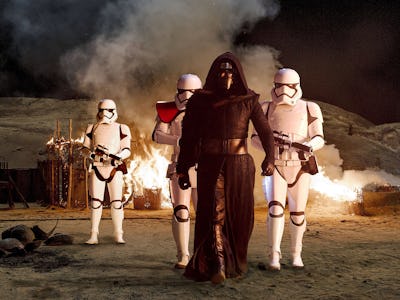 David James/Lucasfilm
With Disney and Lucasfilm desperately trying to get the next Star Wars film to lightspeed, the studio has recruited Peaky Blinders creator Steven Knight.
As reported by Variety, Disney has hired Knight to write the script for the next Star Wars movie, which remains untitled. Damon Lindelof (Lost, The Leftovers) and Justin Britt-Gibson (The Strain) were previously attached but departed the project, with Knight replacing both.
Little else is known about the movie, which will be the 12th live-action Star Wars film in theaters and the first since 2019's Star Wars: The Rise of Skywalker ended the Skywalker Saga. Since then, Star Wars has focused on streaming TV, with The Mandalorian and Andor giving fans their fix of all things a galaxy far away.
While releasing movies too frequently can hurt at the box office, Lucasfilm and Disney's inability to get rolling on a new Star Wars movie has been an issue. It's been even more alarming that projects Lucasfilm announced with great hoopla, like Patty Jenkins' Rogue Squadron, have been axed.
For comparison's sake, Marvel has released eight movies since 2020, although at least two were fully or partially completed before lockdowns began. Still, an inability to keep Star Wars in cinemas is an anomaly now that Hollywood is focused on the expansive mega-franchises Star Wars helped give us.
Knight's hiring can be read in two ways. He's an industry veteran with 18 scripts and 20 years of experience. He's more than proven that he's capable of writing something filmmakers can shoot, which is valuable to Lucasfilm and their search for a new direction post-Skywalker.
However, while Peaky Blinders has spawned a fandom, Knight's scripts generally aren't franchise-friendly. Most of his films are dramas and thrillers, like 2007's Eastern Promises and the 2017 period romance Allied. None of his movies have spawned sequels or spin-offs.
Still, Knight has a versatility that suits the brand. He's scripted action (Hummingbird, starring Jason Statham), comedy (The Hundred-Foot Journey), and fantasy (Seventh Son). He also wrote the divisive 2019 sci-fi Serenity, ostensibly a grounded adult mystery before a wild plot twist reveals the true nature of the characters' existence.
Maybe Knight isn't the most obvious choice for a Star Wars movie, but he brings an artistic perspective that profit-conscious franchises like Star Wars don't often welcome. Given Star Wars' deafening absence from the cineplex, Knight might be Disney and Lucasfilm's only hope.