Star Wars Needs To Learn One Classic Character Lesson From Star Trek
C-3PO can't send messages on Leia's behalf forever.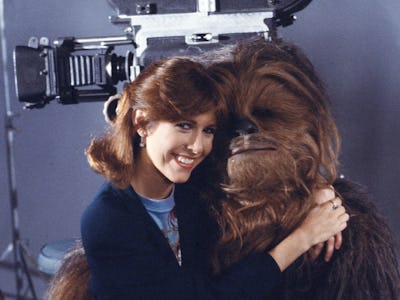 CBS Photo Archive/CBS/Getty Images
It's lucky the most famous droids in the galaxy — C-3PO and R2-D2 — are always willing to do Luke and Leia's dirty work. In Ahsoka, Episode 7, Hera narrowly avoided getting kicked out of the New Republic military, all thanks to C-3PO showing up and conveying a message on behalf of Senator Leia Organa. Why Leia didn't come in person, and triumphantly confront Senator Xiono is somewhat obvious. At this point in the timeline, Leia is about 28 years old. And, clearly, Lucasfilm didn't feel like doing a de-aged/CGI Carrie Fisher — not even as a hologram!
Just like when R2-D2 ferried Grogu in Luke's X-wing to Tatooine in The Book of Boba Fett — all to avoid another appearance from a de-aged Mark Hamill — the Doylist canon constraints of Star Wars are frequently at odds with the Watsonian reality of the faraway galaxy. In other words, it's time to just recast Leia.
Having C-3PO appear in Leia's stead in Ahsoka Episode 7 is actually worse than a CGI deepfake because it reminds us of her absence. C-3PO as a cipher for Leia is a nostalgia trick that backfires. Had this been an animated episode of Rebels, Leia would have just appeared. Ditto a comic book or novel. The medium of live-action TV is creating bizarre character actions, not anything that is happening in the canon.
Back in 2017 and 2018, the other "star" franchise — Star Trek — danced around this problem, too. In Season 1 of Star Trek: Discovery, Michael Burnham (Sonequa Martin-Green) was introduced as Spock's adopted human sister. And, while Discovery did recast Spock's parents, Sarek (James Frain) and Amanda (Mia Kirshner), the show's first season avoided showing Spock, or Captain Pike of the USS Enterprise as much as possible. But these characters were name-checked, or, in the case of Pike, his name appeared as text on the screen early in the season, and when the Enterprise appeared in the season finale of that show, we were told outright that Captain Pike was calling.
A year later in 2019, for Discovery Season 2, Star Trek ripped off the bandaid and never looked back: Captain Pike was now played by Anson Mount, Spock would be played by Ethan Peck, and the role of Number One was embodied by Rebecca Romijn. These weren't alternate universe versions of the characters (like in the 2009 J.J. Abrams movie) these were the real-deal same people from the classic Trek canon, played by new actors. Just like you're supposed to believe George Lazenby is the same James Bond as Sean Connery in On Her Majesty's Secret Service, the recast classic Star Trek characters honored character canon while worrying less about visual canon.
Star Wars has been brave enough to do this a few times before. The existence of the TV series Obi-Wan Kenobi proves this, since of course, Ewan McGregor did not originate that role in 1999. Similarly, reports continue to indicate that Donald Glover will still play Lando in a standalone Star Wars movie, which means that recasting from Solo seems to have stuck. And, if Lando were to appear in Ahsoka, wouldn't we want to see Donald Glover rather than a de-aged Billy Dee Williams?
The success of Star Trek's recasting can be replicated by Star Wars for two reasons. When Ethan Peck first appeared as Spock in Discovery, he was basically a guest star. This is what it would be like if we had a new actress playing Leia in Ahsoka. Somebody who shows up for a few episodes and gives us a new take on the character in a part of the timeline in which we've never seen Leia in live action. But, what the Discovery Star Trek recasting experiment led to... was... those actors getting their own series!
Because people loved the new actors playing Pike, Spock, and Number One so much, fans demanded a new, fresh series with these performers, and so Strange New Worlds, the most well-reviewed and beloved 21st-century Trek series, was born. Star Wars could do this. Star Wars could give us a show that starred all the heroes from the classic trilogy but played by new actors. Hell, they're already halfway there. Alden Ehrenreich can play Han, and Donald Glover can play Lando, which just leaves Luke and Leia to recast.
If Star Wars is going to insist on playing in a nostalgic time period, the franchise should commit to the bit. CGI deepfakes and droids are impressive, but they're no match for a real human actor on your side.
Ahsoka streams on Disney+