5 Years Later, Star Wars Is Finally Walking Back Its Dumbest Mistake
Disney's flagship franchise is finally getting back to movies. What took them so long?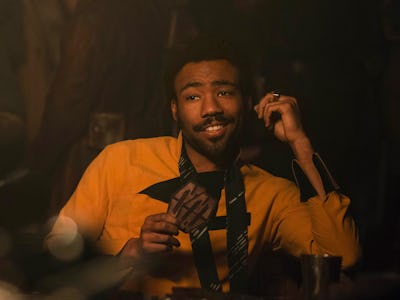 Lucasfilm
Most films have their fair share of production drama, but for Lucasfilm, it doesn't get much messier than Solo: A Star Wars Story. Apart from a troubled production and disappointing box office return, the 2018 film wasn't nearly as bad as Lucasfilm higher-ups have made it out to be. But in the five years since it first sped into theaters, Solo has come to define the studio's very cautious, very divisive new strategy.
Solo was one of a handful of planned spin-offs for some of the galaxy's most beloved characters. It was meant to sire at least two sequels, and if it had made enough of a mark on the box office, it would have justified a whole trove of prequels in the same vein. Unfortunately, it's become a cautionary tale instead. Solo is inadvertently responsible for Lucasfilm's aversion to recasting and its newfound obsession with deepfake de-aging, and it may have also inspired the studio's pivot to streaming.
Star Wars hasn't returned to theaters since 2019's Rise of Skywalker. The big movies Lucasfilm had planned — from Rian Johnson, Patty Jenkins, and Taika Waititi, among others — have been stuck in limbo for years. Boba Fett and Obi-Wan Kenobi's respective solo films were even flipped into television miniseries, and it all seems to stem from Solo's apparent failure. Slowly but surely, though, the Star Wars saga is making its way back to the big screen, and a key character from Solo may actually be leading the charge.
While Lucasfilm worked hard to distance itself from Solo's legacy, it's hard to discount the parts of the film that actually worked. The studio greenlit a Lando Calrissian series in 2020, and back then, Dear White People's Justin Simien was attached to write and direct. But there's been no real movement on the project for years. It seemed like Lucasfilm was waiting for Donald Glover to find time in his busy schedule, and this year he finally did. The Lando project is now moving forward with Glover as writer and star, and the series has transformed into a movie.
The studio's choice to upgrade Lando is a welcome one, but given all it's taken to get to this point, it still feels weird to celebrate. Since Disney acquired Lucasfilm, the studios have been playing it frustratingly safe. Original trilogy retreads like Rogue One and The Force Awakens were designed to make oodles of money without risking brand integrity. They were nostalgia pits with the lowest possible stakes, and while budgets continued to balloon to irresponsible levels, they largely made up for it at the box office.
Solo was a shock to the system that forced Disney to rethink its previously impenetrable strategy. But it's clear the studio learned all the wrong lessons from its box office results, and it's hurt Star Wars more than a lackluster reception ever could.
A lot of good has come from Lucasfilm's pivot to streaming, but it's not immune to failure there, either. It's no secret that The Book of Boba Fett and Obi-Wan Kenobi were previously meant to be films: each series suffered from uneven pacing and hollow emotional stakes. On streaming, though, failure is a lot more difficult to measure.
Lucasfilm's been free to experiment with this new model, and while it's given us hits with The Mandalorian and Andor, its aversion to risk has also cost it (and fans) a lot of opportunities. What have we missed out on while the studio tries to figure out how to recover from one disappointing film? Maybe the upcoming Lando movie will show us, if it doesn't end up shelved with the rest of Lucasfilm's planned features.