Why Canceling Kevin Feige's Star Wars Movie is Actually a Good Thing
Star Wars needs to be the anti-MCU.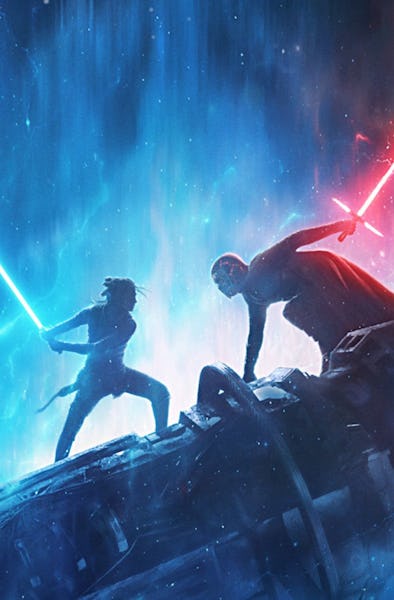 star wars
Star Wars is in flux. While Season 3 of The Mandalorian is playing on Disney+, the medium that made the saga such an institution — films — is stuck on the back burner. And the latest shake-up isn't exactly encouraging for anyone anxiously waiting for the next Star Wars movie.
Variety reports that Patty Jenkins' Rogue Squadron movie and Kevin Feige's reported Star Wars film are both dead. Feige, the President of Marvel Studios, was reportedly working on a Star Wars movie. In May 2022, he even tapped Loki showrunner Michael Waldron to pen the script. (The article also notes that director Taika Waititi's movie is still in the works, and he's apparently set to star in it too.)
But Disney shouldn't have given Kevin Feige a Star Wars movie to begin with. He may be great at running the Marvel Cinematic Universe, but the two are not interchangeable — as much as Disney might treat them like they are.
Star Wars vs. Marvel
Star Wars has irreversibly changed in recent years. After a less-than-perfect movie trilogy, the focus shifted to television and nothing was the same. The Mandalorian became the new Star Wars normal, with spinoffs like The Book of Boba Fett and Andor bolstering the transition.
Andor essentially became the event horizon for Star Wars, a prestige series that could stand alongside The Sopranos and The Americans. It proved that not only can the franchise exist entirely in television, but it can also be great too.
Meanwhile, on the other side of the Disney empire, the Marvel Cinematic Universe is moving in the opposite direction. When Disney+ allowed the MCU to easily reach a streaming audience, the first few projects were gung-ho. WandaVision was great (despite the rushed ending). Loki is an all-time MCU classic. And even Ms. Marvel ranks at the top of the franchise.
Marvel shows came as fast as Disney could produce them, but now the flow of new television has slowed to a drip. In 2021, there were five new Marvel shows on Disney+. In 2023, we're only expecting two: Loki Season 2 and Secret Invasion.
The future of Star Wars
There's no rule saying Star Wars and the MCU have to be similar and run on the same business model. They may be both massive sci-fi Disney properties, but they have wildly different histories, reputations, and audiences. The MCU is just 15 years old, while Star Wars is approaching its 50th anniversary.
It may sound absurd because of the sheer number of movies, but it's actually easier for fans to accept experimentation in the Marvel Universe because it's relatively new — if you don't like this one, you can wait until the next. There's a lot more pressure around Star Wars movies because we only get a few of them. Television gives the entire Skywalker Saga a fresh slate to have fun and experiment — and Andor proves that experimentation can pay off.
Star Wars needs to be the Anti-MCU: TV-focused, not worried about establishing a legacy, and just building the smaller parts of its world up. Taika Waititi and Damon Lindelof may still be crafting movies of their own, but for the time being, Star Wars can be about a bounty hunter on a spirit quest and a petty criminal who finds himself embroiled in a galactic rebellion.