Star Wars Celebration 2022
Andor trailer reveals big changes to the Star Wars universe
Lucasfilm finally unveiled new details about the highly anticipated Rogue One spinoff.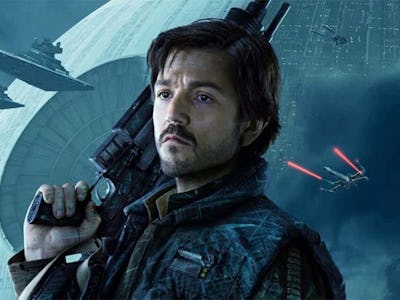 The last time Star Wars Celebration happened, the world was a different place. We hadn't seen The Rise of Skywalker, The Mandalorian – or anything on Disney+ for that matter. But three years later, the event returns, kicking off with a major sneak peek at the future of the franchise.
One of the biggest announcements focused on Andor, a Rogue One prequel series that could change the Star Wars universe as we know it.
What happened? — During the Lucasfilm Studio Showcase panel on May 26, 2022 in Anaheim, California, executive producer Tony Gilroy announced that Andor would release on August 31, 2022 with a two-episode premiere (just like Obi-Wan Kenobi) that will kick off a 12-episode first season. Gilroy also revealed new details about the series, including Stellan Skarsgard's role as Luthan Rale, and Nicholas Britell (of Succession fame) will be composing Andor's music.
But that's not all. The ultimate plan for the series, Gilroy revealed, is a second batch of episodes that will bring viewers "right up to Rogue One." That means fans get a second season of Andor, but it won't go any further than that.
Diego Luna introduced the trailer to massive applause at Star Wars Celebration, and you can watch the teaser here, including a glimpse of Mon Mothma, the Galactic Senate, and Fiona Shaw delivering the stunning final line, "That is what a reckoning sounds like."
The Inverse Analysis — Diego Luna also gave some clues as to how Cassian Andor will be different from the character fans saw in Rogue One. He said, "You're not going to recognize Andor in the beginning, he's a very selfish man."
Luna's comment could mean the show will serve as a redemption arc for a character that already established himself as one of the most selfless heroes in Star Wars history. To Luna, his sacrifice is part of the appeal of the show. "The beauty of this show is they can't kill me!"
The crowd reacted enthusiastically to every announcement, with massive applause, cheers, and waving of sabers. The 7,500-seat auditorium was packed with everyone from cosplayers, kids, and original fans, all together as one big Star Wars Celebration family.
But that was only the beginning, there's a lot more coming from Lucasfilm, including a newly announced show called Skeleton Crew, a glimpse of The Mandalorian Season 3, and much more. But considering Andor's announcement is promising 24 episodes worth of storytelling, this series may just become the new backbone of the Star Wars TV universe.
Andor premieres August 31 on Disney+.