Star Trek Showrunner Explains Why Canon Characters Can Seem Wildly Different
Mike McMahan unpacks Lower Decks Season 4 and the Strange New Worlds crossover.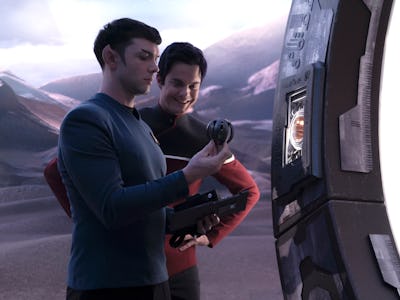 Paramount+
We may receive a portion of sales if you purchase a product through a link in this article.
When Star Trek: Lower Decks debuted in 2020, some toxic fans wrote off the show without even watching it. The creator of the show, Mike McMahan, remembers this moment very well. "We were the animated Trek that nobody wanted. And when we premiered the first episode, people didn't watch it. They just posted YouTubes of putting their face in their hands."
Three years and four seasons later, the knee-jerk dismissal of Lower Decks is a thing of the past. Any notion that this animated comedy version of Star Trek isn't "real Star Trek," has faded away, and been replaced by the opposite sentiment. "Our show really honors the spirit of Star Trek," McMahan insists.
With the Season 4 episode, "Parth Ferengi's Heart Place," Lower Decks features a big homecoming. Guest stars Max Grodénchik and Chase Masterson reprise their roles as Rom and Leeta from Deep Space Nine. But, if Rom and Leeta seem different than how we might have expected, McMahan says that's the point. Spoilers ahead.
DS9 characters reimagined
In "Parth Ferengi's Heart Place," we see Captain Freeman assisting Starfleet's top brass in negotiations to get Ferenginar to join the United Federation of Planets, something that would have been unthinkable before progressive Rom became the Grand Nagus. But, the episode tricks the viewers upon first watch, depicting Rom as a buffoon who only cares about baseball.
"Watching this episode through the first time, you want to feel like I don't know what I'm doing," McMahan explains. "You'll be thinking that we [the writers] just like watched a few clips of Rom and that we don't understand the character. But that's what Rom is doing to the Admiral. He and Leeta are being savvy."
Basically, the twist is that Rom and Leeta are testing Starfleet, to see if they'll bargain like true Ferengi, and thus, preserve some basic Ferengi culture. This reveal will seem obvious upon second watch, but the first time through it highlights just how much Lower Decks plays with perspective, and how the perspective of different characters changed our perception of them. In Deep Space Nine, we knew Rom and Leeta much better, here, they're being assessed by people who only know them by reputation.
This is the cornerstone of Lower Decks; a show that focuses on people who would be "background characters" in mainstream, live-action Star Trek shows, which all started with the 1994 Next Generation episode of the same name, "Lower Decks."
"This is something I struggled with when I created Lower Decks," Mike McMahan explains. "I love Star Trek. But the thing I love about it as a comedy guy, are the downbeats, and the B-plot storylines. We want to do something with real stakes. But our characters are, in some ways, based on me and other comedy writers going out into the world in our twenties, before we were comedy writers. While we exist in a lot of serious situations, we're still saying dumb sh*t because we don't know what to say unless we're trying to be funny."
In other words, serious Star Trek characters only seem that way because of who is observing them, so, does that mean the goofy Lower Decks characters could be serious in another context? Could Jack Quaid's Boimler exist as a more dramatic version of his character in a post-Picard Season 3 era? Is there a version of Boimler who isn't a goofy underdog, a serious character?
"Of course there is," McMahan says. "Boimler could exist after the Cerritos and Lower Decks. And in some pairings or situations, he would seem more like a 'regular' Starfleet officer. But he would still be Boimler. He would still be the funniest guy who is also good at his job on that ship."
The Strange New Worlds crossover
Because the writers' strike was still ongoing earlier this year, McMahan wasn't able to talk about his contributions to the Strange New Worlds/Lower Decks crossover episode, "Those Old Scientists." But if Lower Decks fans were wondering how much McMahan was involved, the answer is a lot.
"I don't think there's ever been a Trek merger of two shows that was this inclusive," McMahan says. "I did a few punch-ups on Strange New Worlds Season 1. So, I was able to do a few passes and punch things up on 'Those Old Scientists.' And I was able to help edit it, too! It was me, Akiva Goldsman, and Alex Kurtzman all collaborating. I don't want to say I was the special sauce or whatever though. I want to say that the Strange New Worlds folks wielded me, but they were driving. They conceptualized it."
Could the successful Strange New Worlds crossover lead to more live-action versions of Lower Decks characters? Right now, nothing is certain. "I'm working on Lower Decks Season 5 right now," McMahan reveals. "After that, I just don't know."