29 Years Later, Star Trek Showrunner Reveals One Hero's Secret Journey
Mike McMahan reveals Mariner's timeline and why Lower Decks became a sequel to The Next Generation.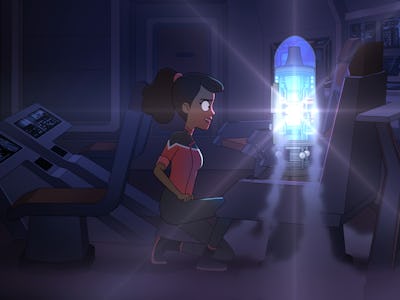 Paramount+
The Inverse Interview
We may receive a portion of sales if you purchase a product through a link in this article.
Fans of Star Trek: The Next Generation will never watch two episodes of the classic show the same way again. In a way that is both profound and tender, the animated comedy series Lower Decks has insinuated itself into the backstory of two TNG classics, "The First Duty," and the beloved 1994 episode "Lower Decks," to which the series owes its name. But, Lower Decks didn't create this retcon for laughs. Instead, the emotional arc of Lower Decks Season 4 pays off TNG-era Star Trek character drama, several decades in the making. For showrunner and series creator Mike McMahan, this wasn't an easy decision.
"I never want to affect the previous [legacy] episodes. I want people to be able to enjoy the episodes and then it naturally ties into Lower Decks," McMahan tells Inverse. "But this was one of the few times where I'm like, Sito's death was so affecting to me. And it felt like in the timeline, it would be for Mariner, too." Thirty-one years after Sito first appeared in "The First Duty," and 29 years after her apparent death, in the 1994 TNG episode "Lower Decks," we suddenly have a whole new side to this story.
As Lower Decks wraps up its fourth triumphant season with several bits of Trekkie nostalgia and surprising callbacks, McMahan reflects on where the series has gone, why Season 4 was so special, and what's ahead for the future. Spoilers ahead.
How old is Beckett Mariner?
As revealed in Episode 9, "The Inner Fight," much of Mariner's frustration with Starfleet and her own role in it goes all the way back to her earliest days in Starfleet. The Season 4 finale, "Old Friends, New Planets," opens up with a flashback to 13 years in the past, specifically the year 2368 and the events leading to the TNG episode "The First Duty." It's here we see Mariner interacting with Nick Locarno, Sito Jaxa, and yes, Wesley Crusher. 2368 plus 13 years means that Lower Decks Seasons 2 through 4 have all taken place, more or less in 2381, while Season 1 was in 2380. So, doesn't that mean Mariner is a bit old for an ensign?
As Mike McMahan explains, the idea that Mariner has been in Starfleet for a while and demoted more than once has been established since Season 1.
"Mariner is in her late 20s, early 30s," McMahan says. "She didn't grow up on Earth, she grew up on ships and with Captain Freeman [her mother]. And I don't want to fill in all the blanks, but when she goes back to Earth, she's like, I don't like being here. This isn't my home. So, when you see her in that flashback, I'm purposefully trying to make her look pretty young. Boimler's probably a little bit younger than her, but not significantly. The show is about being in your mid to late 20s."
Bringing back Nova Squadron
In the 1992 TNG episode "The First Duty," Wesley Crusher's academy buddies attempt a deadly flight maneuver which results in one of their friends getting blown up. In the new Lower Decks flashback, we see Mariner, a first-year cadet, brand new to Starfleet, with wide-eyed enthusiasm and optimism. For the overall arc of Mariner in Lower Decks, this is a revelatory moment and redefines her role as the audience surrogate for all Trekkies.
"Mariner's ultimately a fan of Star Trek like us," McMahan says. "And so it felt natural that she would be affected by the death of a character [Sito] that was so affecting in an episode that it shares a name with the show in which she stars."
McMahan admits he wasn't sure if overtly connecting Mariner to two TNG classics was going to work. But that "it felt really right to Tawney's [Newsome] fandom of Star Trek, so it felt right for Mariner."
In order to make the flashback happen, McMahan obviously brought back Robert Duncan McNeil to play Nick Locarno, and Wil Wheaton as the voice of Wesley Crusher. But the bigger coup here was the return of Shannon Fill, the actress who played Sito Jaxa in The Next Generation, whom we haven't seen or heard from in a very long time, specifically since Sito was presumed lost on a secret mission in the 1994 episode "Lower Decks."
"She doesn't do conventions," McMahan says. "There was no option not to get her. We had to get her. She hadn't acted in 35 years or something like that. We tracked her down, and she's an amazing human being. Truly. She drove down to LA with her daughter, and spending time with her even for just a little bit was amazing. I'm like, Shannon Fill has to do conventions. She is what you would hope Sito is, she's a joy. I'm going to beg her to get out into the fandom a little bit more after this episode. I think people would love to see her and tell her how important her character was to them."
The future of Lower Decks
After Mariner saves the day and defeats Nick Locarno (and her inner demons), the Lower Decks gang is reunited at the end of the episode. But, suddenly, Tendi has to leave the ship and join her sister as an Orion Pirate, in order to fulfill the promise she made earlier in the episode. Does this mean Tendi won't be in Season 5?
"Tendi will return," McMahan says assuredly. "Tendi is not being written out of the show. I hope that that awesome music cue and that moment we gave her at the end of the episode tells fans this isn't a bad thing for Tendi. She is going to go and kick some ass."
In fact, McMahan doesn't want fans to worry about the future of Lower Decks at all. Despite some uncertainty he voiced a bit earlier in the season about the future of Lower Decks, all systems are go for Season 5, and perhaps even longer.
"What I'll say is Season 5 rules, I would not be worried," McMahan says. "I would keep watching Star Trek and loving it, and I hope to get to make Lower Decks for a really long time. I just finished writing the finale of Season 5. If you liked Season 4, you're going to love Season 5. Going into the next season is a whole new energy. It's just everything you'd want and everything we learned and in Season 4, just amped up even more."
Star Trek: Lower Decks is streaming on Paramount+.