The Future of Star Trek Could be in Danger, Showrunner Warns
Not all new Trek will last forever.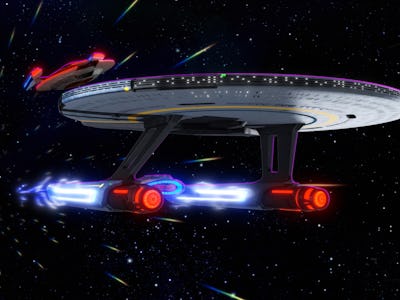 Paramount+
Star Trek
We may receive a portion of sales if you purchase a product through a link in this article.
Somewhat famously, Star Trek: The Original Series was saved by fans. More than once. A letter-writing campaign in 1967 and 1968 ensured that Star Trek got a third season. Meanwhile, in the early 1970s, the explosion of Star Trek fan-run conventions helped pave the way for 1973's The Animated Series, and eventually the first feature film in 1979. Without the fans, there would be no Star Trek, and mainstream science fiction as we know it wouldn't exist.
But it's not the '60s anymore. Fan campaigns to save shows don't work quite how they used to, because the speed of the TV industry is very different than it was in 1967. Today, if a Star Trek show gets canceled, an after-the-fact fan campaign might not be enough to save it.
"If people want more Lower Decks, they've got to tune in and get a couple of other people to tune in," Star Trek: Lower Decks showrunner Mike McMahan tells Inverse, referencing the instability of modern streaming. "So instead of a letter-writing campaign, let's all watch Lower Decks right away, please. I'm working on Season 5 right now, but by the time people realize Lower Decks has been [hypothetically] canceled, it will be too late. We do these seasons a year in advance. So the only trick here is early and consistent viewership. That will help me make more Lower Decks."
McMahan's warning comes at an interesting time. Between the nostalgia-filled Picard Season 3, the epic and eclectic Strange New Worlds Season 2, and now, Lower Decks Season 4, it's clear 2023 has been one of the best years for Star Trek in a very long time. If you're a fan, even a casual one, it's been a very good year to tune in. But McMahan says it's crucial that fans of specific shows continue to spread the word. While it's been a banner year for the Final Frontier, many shows are ending.
"Yes, this is the best, coolest year of Star Trek we've had in a long time. This is the best, coolest Star Trek age we've had in a long time," McMahan says. "But, we're reaching this kind of natural moment where things are ending. I don't know how many more seasons they'll give me of Lower Decks. I mean look at Prodigy. Look at Picard. Look at Discovery. We need to get some new movies going!"
While Lower Decks has been praised to the gills, the reality remains that the streaming business is contracting, and in order for great shows to keep going, fans need to get new fans to watch. The mainstream attention of a feature film would certainly help the Trek brand overall, which was the case in 1996 when First Contact hit theaters at the same time Voyager and Deep Space Nine were on the air.
During this otherwise great year for Trek, Prodigy was pulled from Paramount+ for cost-saving reasons. Although viewership figures aren't known, that decision was likely based on the fact the show was drawing fewer viewers than expected. Prodigy could very well return on a different streamer, but the reality McMahan is alluding to is clear: all streaming TV is fragile. For shows to survive, especially genre shows with relatively niche appeal, they need to hit big. So if you like Lower Decks, and you want it to survive beyond Season 5, tell a friend. Better yet, tell a thousand friends.
Star Trek: Lower Decks Season 4 is airing on Paramount+.