Netflix's Biggest International Hits Could Be in Serious Trouble
Netflix has been making major bank with their international shows. A looming labor dispute may put that in jeopardy.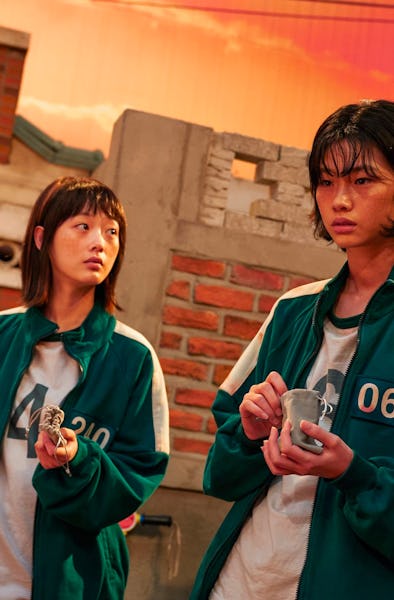 Netflix
With the writers' and actors' guilds striking in the U.S., many assumed that studios and streamers would have to rely on their international titles. Few have a better cache than Netflix: the streamer's been working hard to establish their own hubs in countries like South Korea. And their efforts have been met with incredible success, especially when it comes to runaway hits like Squid Game. There are hundreds of international titles on the platform, and Netflix seems more than willing to rely on them to weather the storm. They've already poured billions of dollars into the Korean film industry — but concerns over where the money is going might have just damned the streamer's future plans.
A new report from The Los Angeles Times revealed the unsustainable reality that many filmmakers in South Korea face, even when doing business with Netflix. When the streamer first put down roots in 2016, many hoped it would set a new example and discourage the exploitative practices that have been in place for decades. And while Netflix has encouraged a sort of creative boom in the industry, an uncomfortable status quo persists. Netflix is able to stretch massive budgets even farther in South Korea, enabling filmmakers to indulge in more high concept ideas. But it comes at the expense of workers above the line and below.
"The problem is that Netflix's big production budgets aren't evenly distributed — most of this money goes to the star actors or big-name screenwriters," said Song Chang-gon, the president of Korea's Broadcasting Actors Union. "For the majority of supporting actors, wages have stagnated or effectively decreased."
While A-listers negotiate their deals with Netflix (and often come away with a generous pay day), supporting actors are stuck with day rates that start at about $300. There are no laws in place to offer residuals to writers or actors, and as a streamer, Netflix is not obligated to bargain with unions. Still, that hasn't stopped Song from trying to establish contact with Netflix HQ. Together with Kim Ju-ho, secretary general of the Korea Broadcasting Performers' Rights Association, he hopes to propose a new wage scale to the streamer. But Netflix representatives have been hard to reach: no one has returned Song's calls.
"One of their first priorities when entering the local market should be to establish some channel of communication with groups like us," Song explained. "But there's no answer at all."
If Netflix refuse to meet with Song and Kim, they could be facing a labor dispute in Hollywood and South Korea. This could affect any of the productions currently in the pipeline, like the second season of Squid Game. Series creator Hwang Dong-hyuk has been outspoken about his own dealings with Netflix. While the streamer raked in around $900 million in "impact value" from Squid Game, Hwang never received any residuals. The writer-director forfeited all rights to the IP in his initial deal with Netflix; though he apparently got a "good deal" for Squid Game's second season, Hwang is still searching for a solution to Korea's residuals issue.
This all represents a real reckoning for Netflix. Their reluctance to meet with unions in South Korea is a risk no matter how you slice it. The issue of fair pay doesn't begin and end in Hollywood: industries the world over are beginning to take a stand against their stifling working conditions. If things go south with Korea's actors' union, the streamer won't be able to hide behind their international catalog for much longer.