Across the Spider-Verse Trailer Throws a Wrench in the Entire MCU Multiverse
Everyone's diving into the multiverse now, but is it the same multiverse or something different?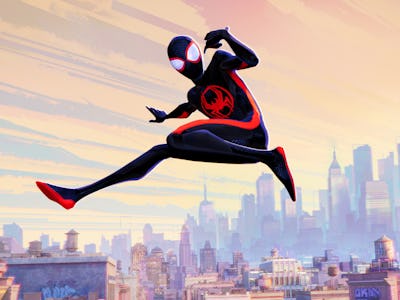 Sony Pictures
The Multiverse is a complicated subject that's often hard to talk about: you're dealing with parallel universes, multiple variants of the same characters, and quantum physics, so it can be hard keeping everything straight.
With Spider-Man: Across the Spider-Verse, Sony's sequel to the smash hit animated film Spider-Man: Into the Spider-Verse, Miles Morales grapples with the vast multiverse he barely explored last time. Now, instead of a squad of Spideys, there are dozens of them, and it looks like one has a bone to pick with Miles.
Check out the full trailer below:
Across the Spider-Verse looks like a perfect follow-up to Into the Spider-Verse, with Miles still grappling with a work-life balance, his concerned school counselor (voiced by Rachel Dratch), and a goofy-looking villain known as The Spot. When he's happily reunited with his friends in "the Lobby," a dimension where all the Spider-Men in an elite multiversal squad congregate, it opens up a whole new world for Miles. But there's one confusing detail.
Miguel O'Hara, voiced by Oscar Isaac, apparently started the coalition of Spideys that Gwen shows Miles in the multiverse. But when Miles asks Miguel if he can join, he's refused. "You can never be part of this," he says, "And don't even get me started on Dr. Strange and the little nerd back on Earth-199999."
Any MCU superfan knows this term. Earth-199999 is the old designation for the section of the multiverse where the prime narrative of the Marvel Cinematic Universe takes place. It dates back to an old handbook from 2008, but it's all fans had to go on until Doctor Strange in the Multiverse of Madness, when Reed Richards revealed the actual in-universe name is Earth-616.
The conflict between the two has been a point of contention with fans. Marvel star (and noted Marvel fan) Iman Vellani told Deadline it's something she discusses with the big bosses. "I have this argument with Kevin (Feige) every time I meet him in person," Vellani said. "It's not all (Earth) 616, the MCU is definitely 199999."
But if the MCU Earth is 616, why did Miguel call it 199999? Frankly, we don't know. Maybe designations are different in different parts of the multiverse, or maybe there's actually an Earth 199999 where another Dr. Strange got into multiverse hijinks with a nerdy teen Spider-Man.
At this point, it's the multiverse: making sense of it is futile.
Spider-Man: Across the Spider-Verse premieres in theaters June 2, 2023.