"Star Wars Is My Religion": Rebels Co-Creator Is Thrilled to See the Characters in Ahsoka
"It's not something I ever imagined when we were making the show."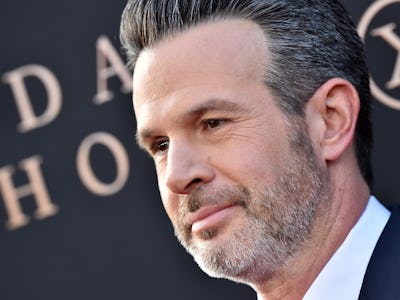 Getty Images
Modern genre filmmakers are often genuine fans of the franchises they're helping to expand. That's especially true for writer, director, and producer Simon Kinberg, who co-created Star Wars Rebels.
"Star Wars is my religion," Kinberg tells Inverse. This is why, as one of the minds behind one of the most influential Star Wars animated series, Kinberg was amazed he got to "write a few verses of the Bible."
Dave Filoni is given most of the credit for spearheading the wildly popular Rebels, but Kinberg was just as instrumental in creating the show that introduced beloved characters like Ezra Bridger, Sabine Wren, and Hera Syndulla. He wrote a handful of Rebels episodes, oversaw all the scripts, and helped guide the storylines for fan-favorite characters. Their stories would continue past his time in the Star Wars universe, as the main Rebels characters made their live-action debuts in The Mandalorian and Filoni's Ahsoka series.
"There's so many things to me that are exciting about the Rebels characters coming to life in Ahsoka," Kinberg says. "It's not something I ever imagined when we were making the show."
Rebels was "one of the most beautiful experiences" of Kinberg's career, especially when it came to collaborating with Filoni, who was the supervising director. "Our partnership on that show was really great," he says. "Which leads to the other thing that's really thrilling to me: not just seeing the characters come to live action, but to see Dave really flourishing in a role that I knew he was capable of."
Filoni is now one half of the duo overseeing this new branch of the Star Wars saga. Alongside Mandalorian creator Jon Favreau, Filoni's had a hand in series like The Book of Boba Fett and, of course, Ahsoka. While Kinberg hasn't been involved with the franchise since Rebels ended in 2018, he's content to watch the creative team continue to develop the universe.
But Rebels isn't the only part of Kinberg's legacy that's been getting reappraised. The filmmaker is all but synonymous with Fox's X-Men franchise: he came on board with X-Men: The Last Stand, and has either produced or co-written every film that followed. He even made his directorial debut with Dark Phoenix. Though he's expressed some interest in directing "a fresh take" on the X-Men someday, he's moved on to his own burgeoning franchise with Apple TV's Invasion.
With the X-Men poised to enter Marvel's Cinematic Universe, Kinberg has passed the torch to Marvel Studios President Kevin Feige. "I don't know where they are in their process," Kinberg says of the upcoming X-Men reboot, "but that's Kevin's world."
Like Filoni, Kinberg and Feige go way back. "Kevin hired me on my first X-Men movie. He was one of the producers of X-Men: The Last Stand, over 20 years ago. And we still see each other. It's been a really beautiful relationship. To be creating what were parallel related worlds for two decades, and now to see them all live under the same umbrella, I'm excited. As a fan, both of Marvel and of Kevin, I'm excited."
When it comes to Disney's most lucrative properties, Kinberg seems content to sit back and watch. But everything he learned from his experiences with Marvel and Star Wars will likely live on in his Apple TV+ series Invasion, consciously or not. "I feel as though I am unconsciously sprinkling in Star Wars to everything that I do," Kinberg jokes.
Invasion is streaming on Apple TV+.