Shazam! Fury of the Gods' Wild DCU Cameo — and the Story Behind It — Explained
Grace Caroline Currey recalls having a DC heavy hitter on set.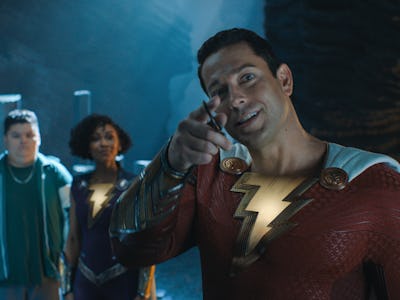 Warner Bros. Pictures
If you think the DC Universe has fully rebooted, think again.
Shazam! Fury of the Gods, the sequel to 2019's Shazam!, has hit theaters as the first of four(!) DC movies scheduled this year. It's set to be followed by The Flash in June, Blue Beetle in August, and Aquaman and the Lost Kingdom on Christmas Day.
Despite so many new movies, 2023 is still a final hurrah for the DC Cinematic Universe. A new era led by DC Studios co-chairs James Gunn and Peter Safran is on the horizon, but while Gunn and Safran have their own vision, the jaw-dropping cameo at the end of Fury of the Gods suggests the old DCU isn't dead yet. Spoilers ahead.
At the end of Fury of the Gods, Billy Batson (Asher Angel/Zachary Levi) is dead after his battle against Kalypso (Lucy Liu), one of the Daughters of Atlas. With Billy gone and the Wizard's staff depleted of magic, the Shazam Family buries Billy at the pantheon of the gods.
They're not alone. Following through on an earlier joke, Fury of the Gods features Gal Gadot as Wonder Woman, who restores the staff and brings Billy back to life. While the freshly-resurrected Billy tries to be smooth and asks her out, the Justice League member passes, citing the age difference between a 13-year-old boy and a centuries-old Amazonian. Good call, Gal.
Gadot's cameo was actually foreshadowed. When the imprisoned Wizard (Djimon Honsou) psychically communicates with Billy, he interrupts a dream where Billy is on a date with Wonder Woman, whose face is shrouded. When "Wonder Woman" turns around, it's the Wizard's head atop her body.
How Wonder Woman's Cameo Happened
Grace Caroline Currey stars in Shazam! and Shazam! Fury of the Gods as Billy's older foster sister Mary, who has powers of her own in the sequel. In an interview with Inverse, Currey details the hilarity of Djimon Honsou wearing a replica of Gadot's wig, and the anticipation of having Gadot on set.
"I feel like we shot that so quickly," Currey says about the cameo. "There was hardly time. But the excitement of even having Wonder Woman's costume on set was so exciting."
The presence of the costume might have been intimidating if not for Honsou making it hilarious. "We were dying. We saw him getting out of his Uber to get to the restaurant where they were shooting. He's got the Wonder Woman wig on being like, 'Hell-o, guys.'"
Currey says Gadot's cameo was written as a twist on Superman's cameo at the end of the first Shazam! in 2019, which was filmed by Henry Cavill's body double. "They totally leaned in to that," Currey says. "When I read the script, I was freaking out because I was like, 'Yes, I know what they're doing!'"
Gadot's DC future is unknown. As the DCU reboots, it's unclear if Gadot will stay on as Wonder Woman, or if Gunn and Safran want to pursue a different iteration of the iconic character. But for now, Fury of the Gods is assurance that Gadot will always be one generation's Wonder Woman.
"When we were shooting we didn't know if we were going to get her," Currey says. "And then we did, which just feels like a really beautiful moment for our movie."
Shazam! Fury of the Gods is now playing in theaters.