Secret Invasion Episode 5 Release Date, Start Time, and Plot for Marvel's Sci-Fi Thriller
We're one step closer to the end.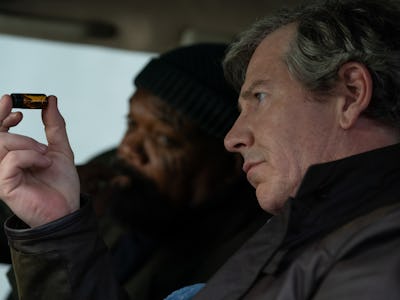 As Secret Invasion steps into its back half, the action and intrigue has been heating up ever so slightly. It's not yet reached the heights that Marvel Studios promised in its omnipresent marketing — and with only two episodes remaining, the series only has so many more chances to deliver.
Last week's episode of Secret Invasion did culminate in an explosive finale, and it was one of the series' best thus far. Can Episode 5 pick up where it left off? Will anyone else be revealed as a Skrull? Will Nick Fury (Samuel L. Jackson) ever patch things up with his estranged — and super cool — wife, Priscilla (Charlayne Woodard)? All will be revealed in time.
What day does Secret Invasion episode 5 release?
New episodes of Secret Invasion drop weekly on Wednesdays. Episode 5 drops on July 19.
What time does Secret Invasion episode 5 premiere?
Secret Invasion episode 5 will be available to stream at 3:00 a.m. EST (12:00 a.m. PST).
How many episodes of Secret Invasion are left?
Secret Invasion is a six-episode limited series. That means that Episode 5 is the last before the series finale.
Is there are trailer for Secret Invasion episode 5?
Marvel doesn't typically drop episode-specific trailers — but with only two episodes remaining, that's begun to change. Watch the latest Secret Invasion trailer below.
What is the plot for Secret Invasion episode 5?
In episode 4 of Secret Invasion, the US President (Durmot Mulroney) finds himself in a trap set by Gravik's Skrull insurgence. Fury and Talos team up to rescue him, but their services come at a high price. Episode 5 will probably pick up right where last week's episode left off.
Will there be a Secret Invasion season 2?
Secret Invasion has been touted as a limited television event. A second season hasn't been confirmed, and it's unlikely that one will, but Fury's adventures will at least continue in future Marvel projects.
Secret Invasion is currently streaming on Disney+.