Scott Pilgrim Takes Off Isn't Getting a Season 2 — And It Probably Shouldn't
Netflix's "alternate-reality sequel" has been a long time coming, but this could be the last Scott Pilgrim adventure we get for a while.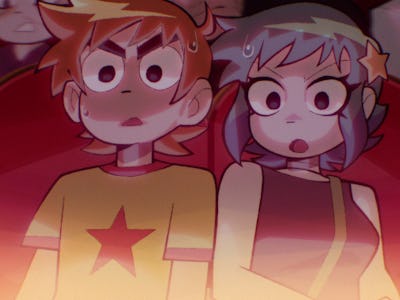 Netflix
There's a lot of expectation following a series like Scott Pilgrim Takes Off. As the long-awaited follow-up to a millennial cult classic, the Netflix series has massive shoes to fill. But rather than try to match fan hopes, Scott Pilgrim Takes Off works hard to subvert them.
The series isn't so much a remake as it is "an alternate-reality sequel," according to Edgar Wright, who serves as executive producer. It swerves in a completely new direction, allowing creator Bryan O'Malley and co-writer BenDavid Grabinski to tell a new story on the foundation of the old. Diverging from the source material would also allow Takes Off to continue the adventures of Scott Pilgrim (Michael Cera), Ramona Flowers (Mary Elizabeth Winstead), and the League of Evil Exes, but does that mean a second season is in the works? Maybe someday, but for now, that's probably the last thing on O'Malley or Grabinski's mind.
"It's self-contained for now," O'Malley told Rolling Stone. "I never say never, but right now, it seems like it would take about 50 different miracles simultaneously for another season to happen."
The choice to make Takes Off self-contained is related to the longevity of modern shows, particularly those on streaming platforms like Netflix. "People are always complaining about how shows get canceled after one season. So we hedged our bets immediately, and tried to make a self-contained one season," O'Malley said.
"We put everything we had into this, and we think it has a really great ending that we're proud of," Grabinski added. "Maybe some day one of us will text each other an idea that's really great for a Season 2. But for now, my entire brain and heart is in this thing, and just getting it out into the world."
Technically, Scott Pilgrim Takes Off sets up a potential conflict that could see Ramona's ultimate ex, Gideon Graves (Jason Schwartzman), and his new girlfriend, Julie Powers (Aubrey Plaza), strike an evil alliance. But that's just one loose thread in a series that otherwise resolves most of its issues. More than any Scott Pilgrim story that preceded it, Takes Off provides real closure for each member of its ensemble, even the evil exes. Heroes and villains alike get the chance to grow and change, and while it would be fun to see them continue to shake their arrested development in future stories, it's probably something best left to our imagination.
O'Malley and Grabinski are still fresh off all the work of getting this show made, so it makes sense that they aren't interested in immediately continuing it. While that could very well change in a few years, and the cast and crew could reunite to develop a second season of Takes Off, it's not likely. To quote O'Malley, though, never say never. Fan hopes made the show possible in the first place, and they could be the key to getting another chapter of the story, too.
Scott Pilgrim Takes Off is streaming on Netflix.