The Best Sci-Fi Epic of the Decade Makes the Most of Its Runtime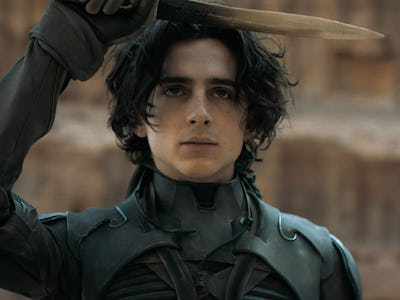 Warner Bros. Pictures
Adapting a massive, dense sci-fi or fantasy novel is never an easy thing to do. For every successful adaptation that's been done (e.g. Peter Jackson's Lord of the Rings trilogy), there's always an example of a misfire of equal proportion (e.g. 2017's The Dark Tower). Readers, consequently, have learned to approach all adaptations of their favorite books with a healthy level of skepticism. As warranted as that is, too, it's worth celebrating the book-to-movie adaptations that actually work.
There's no recent example that fits that criteria better, either, than 2021's Dune. Directed and co-written by Sicario director Denis Villeneuve, the big-budget adaptation of the first half of Frank Herbert's iconic 1965 novel is a gargantuan, immaculately conceived sci-fi blockbuster. In a sense, it's the culmination of the eight-year run that cemented Villeneuve's status as one of the most formidable and consistent craftsmen in all of Hollywood.
And now it's available to stream on Netflix.
Adapted from Frank Herbert's original novel by Jon Spaihts, Eric Roth, and Villeneuve, Dune follows Paul Atreides (Timothée Chalamet), the son of a royal duke and a woman with powerful telepathic abilities, whose life as the heir to his House is turned upside down when his entire family is forcibly relocated to the wartorn desert planet of Arrakis. There, Paul finds himself plagued by visions of his future, as well as attacks on him and his family from a rival house led by the villainous Baron Vladimir Harkonnen (Stellan Skarsgård).
As the conflict between Houses Harkonnen and Atreides escalates, Paul and his allies discover a conspiracy against his family that goes deeper than anyone could have imagined. At the same time, Paul and his mother, Lady Jessica (Rebecca Ferguson), begin to suspect that his own telepathic and prophetic abilities may make him a long-prophesied messianic figure of potentially terrible power. Over the course of Dune's considerable, yet brisk, 155-minute runtime, Paul is forced to try and find his place in a world where the ground beneath his feet is constantly shifting and changing (literally and figuratively).
Behind the camera, Villeneuve renders Dune as both a tragic political thriller and a Hero's Journey-esque sci-fi fantasy story. As compelling as Dune's plot and ideas are, too, it's the rigorousness and passion with which Villeneuve and his collaborators bring the film's world to life that makes it so exceptional. The blockbuster looks, sounds, and feels bigger than most movies of the past 20 years, and the production, costume, art, and set designs done by its behind-the-scenes department heads are unparalleled in their detail and striking artistry. Visually, Dune manages to faithfully bring Herbert's novel to life in a way that also ensures that it looks unlike any other sci-fi or fantasy blockbuster of recent memory.
The film is, in every way, an improvement on David Lynch's notoriously flawed 1984 adaptation of Dune, which suffers greatly from having to squeeze the entire plot of its source material into a mere 137-minute runtime. By adapting only the first half of Herbert's Dune, Villeneuve's adaptation is conversely able to luxuriate in the beauty and drama of its story. Greig Fraser's Oscar-winning cinematography continuously finds new shades of beauty in the film's pale desert landscapes and black and gray color tones — visually reflecting the simultaneous harshness and grandeur of Paul Atreides' story.
Outside of Villenueve's own Blade Runner 2049, there is no sci-fi blockbuster from the past 10 years that is as engrossing or breathtaking as 2021's Dune. It's a collection of massive technical achievements, none of which have lost their power or luster in the years since the film's release. As disappointing as it is that Villeneuve's highly-anticipated follow-up, Dune: Part Two, has been delayed to March 2024 as well, fans can at least take advantage of the film's presence on Netflix now by either checking Dune out for the first time or giving it the rewatch that it warrants and deserves.
Dune is now available to stream on Netflix.