Kevin Feige Confirms a Shocking MCU Rumor — But There's a Twist
Scarlett Johansson is back! Black Widow probably isn't.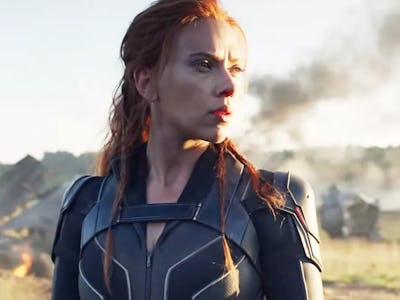 Marvel Studios
In recent days, a once-fringe idea for the MCU's future has gained serious momentum. The possibility of reviving the Avengers team we first met in 2012 now seems less, well, impossible. Sure, Tony Stark is deceased and Steve Rogers is geriatric, but we're now deep in the Multiverse era, where three different Spider-Men can co-exist, and Loki can carry his own series despite dying.
Now, there's been an exciting new development on the subject of a classic Avenger returning... but it's not in the capacity you'd expect.
At the premiere of The Marvels, Entertainment Tonight asked Marvel Studios President Kevin Feige about a Variety article claiming a recent executive retreat included discussions about bringing Scarlett Johansson and Robert Downey Jr. back to the MCU. Feige denied the idea was floated, but did say, "We're doing a project with Scarlett."
This is surprising, considering Johanssen's last appearance in the MCU didn't end well. She sued Disney over breach of contract after Black Widow was given a simultaneous theatrical and streaming release, although the lawsuit was settled, and Johannson told The Hollywood Reporter she "looks forward to continuing our collaboration in years to come."
But it doesn't appear that collaboration will involve Black Widow. "I'm done," Johansson said in April on fellow MCU alum Gwyneth Paltrow's Goop podcast. "Chapter is over. I kind of did all that I had to do."
So then just what is this mysterious collaboration? Johansson is still slated to produce and star in Disney's Tower of Terror, but that wouldn't involve Marvel Studios and Feige. The most likely option is that she'll be producing a future Marvel project, perhaps one following up on Yelena Belova, Natasha Romanov's adopted sister and de facto successor, but not starring in it. There's also the possibility that she takes on a different and much smaller role within the MCU, but a guiding hand feels more likely here.
No matter what the project is, knowing Johansson has made amends with Marvel is nice to hear. Having Johansson on board could only mean good things for the MCU, whether she's adding star power as a producer... or making a quick cameo.