The Most Controversial Star Wars Villain of 2022 Says He Wants to Return
The Inquisition could continue.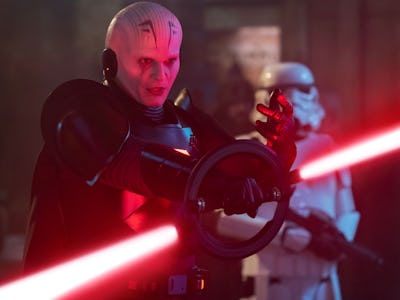 Lucasfilm
Obi-Wan Kenobi was one of Lucasfilm's most anticipated shows. Sadly, the hype died fast on account of its shaggy pacing and anticlimactic narrative, but that doesn't mean it was a wash. One of the standout elements of the Disney+ miniseries — apart from Ewan McGregor's return as the world-weary Jedi Master — was Rupert Friend as the chilling Grand Inquisitor.
Created by Dave Filoni, The Grand Inquisitor was one of several beloved Star Wars Rebels characters to leap live-action. Jason Isaacs originally voiced the intimidating villain, who was trained by Darth Vader himself to hunt down the remaining Jedi after Order 66. Isaacs' performance was so popular there was chatter about him reprising the role in live-action, but Friend ultimately donned the skull-like prosthetics to play the Obi-Wan Kenobi baddie. He certainly made an impression, delivering one of the show's most shocking moments when he miraculously recovered after getting stabbed in the gut.
While there's no news on another season of Obi-Wan Kenobi, it's clear things aren't over for the Grand Inquisitor yet. Could he return in another Disney+ show? Inverse asked Rupert Friend, who currently appears in Wes Anderson's new sci-fi film Asteroid City, whether he would return. And he's not only interested in appearing as the Grand Inquisitor again, but would like to reunite with McGregor too.
"I loved playing that," Friend says. "It's such a physical transformation and such a scary dude. It was a lot of fun, and I really like Ewan. And so to do something else with him would be great."
Obi-Wan Kenobi was advertised as a limited series but, as with all Disney releases, there's been chatter about a second season. There's always more story to tell, but the muted reaction to the first season might not make Season 2 all that pressing for Lucasfilm. Regardless, with Filoni expanding the Mando-verse in TV and movies, there's a chance for the Grand Inquisitor to pop up again somewhere.
Asteroid City hits theaters June 23.