The Most Exciting Sci-Fi Thriller of the Year May Be In Trouble
An iconic director's foray into genre filmmaking is getting pushed back.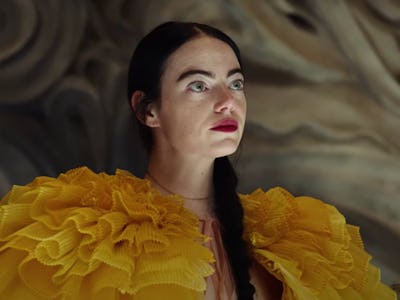 Searchlight Pictures
The ongoing writers' and actors' strikes are incredibly important fights for pay equity and workplace rights, and production of new movies and TV shows has halted while this battle is fought. But while that's to be expected, delays are now starting to affect finished movies. Now, the sci-fi debut of one of the most creative directors working today could be a casualty.
Poor Things is Yorgos Lanthimos' take on the Frankenstein story. It stars Emma Stone, who Lanthimos worked with on The Favourite, and the trailer promised a delightful, innovative, and surreal story that was originally going to debut on September 8.
However, The Hollywood Reporter announced the film would be delayed by three months, moving it to a December 8 release. It will still appear at the Venice Film Festival, but its wider release will be moved back to allow its stars, like Stone and Willem Defoe, to hit the promotion circuit. Actors' union rules prevent members from promoting projects during a strike, which means Searchlight Pictures, the studio behind Poor Things, is banking on the union and studios to reach an agreement before December.
Poor Things isn't the only movie to be delayed for the sake of promotion. Luca Guadagnino's Challengers was supposed to premiere in Venice, but was pulled when MGM moved the release date to April 26, 2024, to allow stars Zendaya, Josh O'Connor, and Mike Faist to promote it. Zendaya's other new film, Dune: Part 2, is also dealing with rumblings of a possible delay for the same reason.
If studios refuse to give writers and actors a fair deal, then Poor Things may be pushed into 2024. The only other option would be for the movie to release without promotion by its stars, which is feasible for highly anticipated films like Dune: Part Two but is a dubious approach for weirder movies that need all the attention they can get. Hopefully, this dilemma will help studios realize just how important actors are, and the public will be able to see what an undead Emma Stone looks like before the new year.
Poor Things hits theaters on December 8, 2024.