Critics Think Mrs. Davis Could Be One of the Best Sci-Fi Shows of the Year
Finally, a nun fights AI.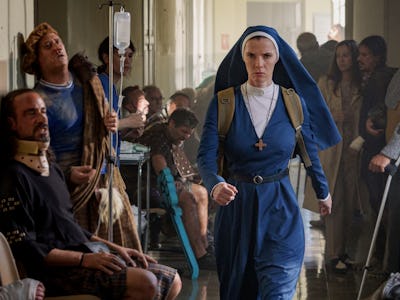 Peacock
"She wants to talk to you."
Unlike the vague official teaser Peacock released for Mrs. Davis two weeks ago, where plot details were kept vague save for that one eerie phrase being repeated by random people around the world as they passed their earbuds to others, the official Mrs. Davis trailer tells us who was on those calls, and who wants that voice to shut up.
Mrs. Davis is the world's most powerful AI, a program that claims its only desire is to make humans happy. Now, stop us if you've heard this one, but it was designed to be benevolent until things went wrong.
Mrs. Davis' adversary is Sister Simone of Reno, portrayed by Betty Gilpin (GLOW), who believes the AI intends to brainwash and enslave all of humanity by providing, according to an in-character statement sent to the press, "validation, gentle guidance, and unconditional care" as well as "the chance to earn Wings by performing Quests!" While those details aren't explicit in the trailer, we do see Sister Simone embark on one of these Quests — to find the Holy Grail, no less — while undercover. Along the way, Simone gets in sticky situations, leading her to wield a nunchuk-esque weapon. Meanwhile, Jack McDorman (Dopesick) may be Simone's rebellious ex, but he has a personal vendetta against Mrs. Davis that brings the two back together.
Mrs. Davis hits Peacock on April 20, but it officially debuted last week at SXSW, Austin's yearly mega-media conference and tech festival. The eight-episode sci-fi dramedy is helmed by big names in genre television — Tara Hernandez (The Big Bang Theory) and Damon Lindelof (Watchmen, The Leftovers, Lost) — and the hype associated with their names built when some critics who saw screeners at SXSW suggested that Mrs. Davis might be one of the best sci-fi shows of 2023. Take Slashfilm editor Jacob Hall's comments:
"One thing is for sure: it's the most audacious science fiction TV show I've seen since the early episodes of HBO's 'Westworld,' and the two episodes that screened at the SXSW Film Festival make a hard sell for the Peacock streaming service. I'm fascinated to see how audiences respond to something that coils itself around a half dozen different genres and tones, refuses to answer questions until it's ready to do so, and then readily engages in one of Lindelof's pet themes: faith versus science. But with more outlandish comedy."
Other critics were also positive, with IndieWire highlighting the show's "high-octane action sequences" and "general absurdity." Lindelof told The Hollywood Reporter that he wants the show to explore the boundaries of faith and science, and how an AI more interested in controlling humanity than extinguishing it could destroy the appeal of the former. Based on the early reactions, at least, those questions will be explored in some very strange ways.
Mrs. Davis drops its first four episodes on Peacock on April 20, 2023.