Mrs. Davis Release Date, Cast, Trailer, and Plot for Damon Lindelof's Techno-Thriller
The Watchmen auteur's mysterious new Peacock series promises a spectacular clash between technology and faith.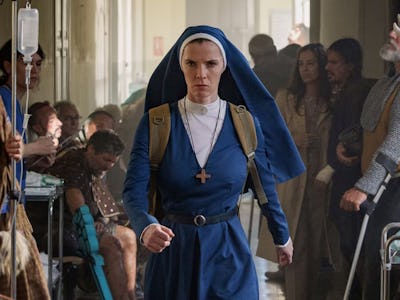 Peacock
Damon Lindelof knows how to devolve a story into wonderful chaos. With a resume boasting twisty dramas like Lost, The Leftovers, and Watchmen, it's clear that any show with his name attached isn't going to go where you think it will.
So when his next series, Mrs. Davis, was given the description "faith and technology are at odds as a nun confronts a power of artificial intelligence," longtime Lindelof fans prepared for another strange adventure. While the series is premiering soon, details are sparse — but that just leaves more room to go wild.
When is the Mrs. Davis Release Date?
Mrs. Davis is premiering at SXSW in March 2023, and hitting Peacock on April 20, 2023. Four episodes will release upon premiere, while the remaining six will release weekly on Thursdays.
Mark your calendars now, because knowing how Lindelof works, this is going to be a show where spoilers are Kryptonite, and kicking off the action with four episodes means catching up will be imperative.
Is there a trailer for Mrs. Davis?
Peacock has released a teaser, but it's cryptic. It merely shows people offering their earbuds to others while saying, "she wants to talk to you." We know who "she" is — the AI Mrs. Davis — but her revelatory words remain a mystery to the audience.
Who Stars in Mrs. Davis?
Glow and The Hunt star Betty Gilpin plays Simone of Reno, a nun on a mission to destroy an AI known as Mrs. Davis. Jake McDorman plays Gilpin's rebellious ex. David Arquette, Elizabeth Marvel, Andy McQueen, Ben Chaplin, and Margo Martindale will also appear. There's no word yet about who will play the title AI.
What is Mrs. Davis about?
Deadline describes the series as "an exploration of faith versus technology — an epic battle of biblical and binary proportions." Simone's fight against Mrs. Davis will presumably fuel most of the action, but it's hard to speculate what that will look like without a clear idea of what Mrs. Davis is. Peacock did release a cryptic letter from Mrs. Davis, detailing how people use her and what the appeal is:
"I am the one who is going to remind you of your value. Of your worth. While also mentioning that you look mighty fine in those jeans. Aww. That's nice to hear, right? Of course it is. Which is why I have amassed billions of Users the world over. Because I provide validation, gentle guidance, and unconditional care. Not to mention I give Users – I mean partners – the chance to earn Wings by performing Quests!"
So it sounds like a cloying New Age life coach combined with an immersive video game that serves up real-world missions, which is a scary combination considering the implication that the AI turns its Users into a mindless army.
The letter also teases Simone's fight against Mrs. Davis.
"There are those actively plotting my demise. One such detractor is a nun – a Sister Simone of Reno who rejects my very existence. Something about my intention to enslave all of humanity…or whatever…"
Who created Mrs. Davis? What are the "Wings" these users are collecting? Is there a Mr. Davis? We hope to get answers on April 20, but since it's a Lindelof show, the answers will probably raise more questions.
Mrs. Davis premieres April 20 on Peacock.