Every Single Mike Flanagan Netflix Horror Show, Ranked From Worst to Best
From The Fall of the House of Usher to Midnight Mass, here's a definitive ranking of the filmmaker's TV efforts.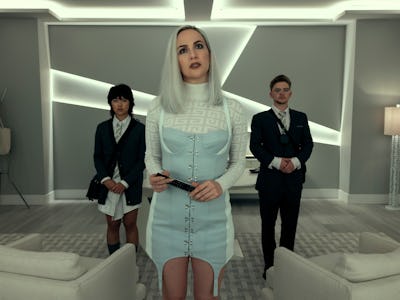 Netflix
When Mike Flanagan teamed up with Netflix for his feature adaptation of Stephen King's Gerald's Game, few could have predicted that it would be the first step into a completely new era of his career. Nonetheless, the celebrated horror filmmaker followed up that 2017 effort with his first-ever limited series, The Haunting of Hill House, an ambitious, frequently terrifying adaptation of the 1959 novel of the same name by Shirley Jackson.
In the five years since that series was released, Flanagan has created, co-directed, and co-written four more TV shows for Netflix, including this year's The Fall of the House of Usher, nearly all of which are now considered contemporary horror classics among genre fanatics. Despite how successful Flanagan's partnership has proven to be for both him and Netflix, though, the filmmaker has left the streaming service behind in favor of a fresh start at Amazon.
Now, with Halloween just around the corner, this week seems like as good a time as any to look back and rank Flanagan's Netflix shows from best to worst.
5. The Midnight Club (2022)
The Midnight Club is a YA horror series about a group of terminally ill teenagers who meet on a nightly basis to tell each other scary stories. Despite its thematic focus on heavy issues like death and the afterlife, the series boasts a comparatively lighter tone than Mike Flanagan's other shows. While that helps The Midnight Club stand out from its fellow Netflix titles, the series never totally comes together either tonally or narratively. Like everything that Flanagan has made, it contains instances of sheer brilliance, including one unforgettable episode centered on Ruth Codd's Anya, but there's no denying that The Midnight Club is the weakest and most uneven of the filmmaker's TV efforts to date.
4. Midnight Mass (2021)
Created and directed solely by Mike Flanagan himself, Midnight Mass is the most thematically and narratively ambitious series that the writer-director has ever made. Both a Catholic horror fable and a bloody send-up of a classic vampire story, the seven-episode Netflix drama is a sprawling, frequently riveting TV series that only really slips up when it attempts to give answers to its innumerable questions about faith, life, and death.
The series has a tendency, especially in its second half, to indulge in a bit too much navel-gazing, but when it focuses solely on shocking and terrifying you, Midnight Mass is a force to be reckoned with. It also, notably, contains what might be the single greatest cut that Flanagan, a longtime editor, has ever conceived and executed. Those who know… know.
3. The Fall of the House of Usher (2023)
Mike Flanagan's most recent and final Netflix offering is also one of his very best TV shows to date. Based on a wide array of Edgar Allan Poe stories and poems, The Fall of the House of Usher is the meanest, gnarliest, and most venomous horror experiment of Flanagan's career. It's both an eight-episode homage to Poe's unique brand of macabre horror and a thinly veiled takedown of the Sackler Family — and it makes that combination work far better than you might think. As far as Flanagan's horror shows go, The Fall of the House of Usher is as entertaining and gory as it gets, which is why it might very well be the perfect entry point into his Netflix oeuvre. Fair warning, though: It definitely isn't a show for the faint of heart.
2. The Haunting of Hill House (2018)
The Haunting of Hill House, Mike Flanagan's first Netflix limited series, managed to break into the greater pop cultural conversation more profoundly than any of the shows that have followed it. It's not hard to see why, either. The series is not only masterfully directed from start to finish by Flanagan, but the twists that are scattered across its 10 episodes are often terrifying and heartbreaking in equal measure. Five years after its release, the show's sharpest moments still cut deep, its scares still provoke embarrassingly loud screams, and its most tragic moments still elicit genuine sobs. It is, perhaps, still the best example of what Flanagan's now-trademark blend of heart-filled horror can be.
1. The Haunting of Bly Manor (2020)
Inspired by a handful of stories by Henry James, The Haunting of Bly Manor is, in many ways, an unlikely follow-up to The Haunting of Hill House. Rather than trying to offer the same in-your-face horror pleasures as the latter series, Bly Manor strives to be something much subtler and moodier. It is as much a gothic romance as it is a straightforward horror thriller. Indeed, while the series contains more than its fair share of chilling scenes and images, it's the moments when The Haunting of Bly Manor's various love and ghost stories perfectly overlap that leave the most lasting of marks.
Over the course of its nine episodes, the series gently weaves all of its subplots together until it reaches a coda that remains the most devastating and moving section of storytelling that Mike Flanagan has ever had a hand in creating. Put simply: None of the filmmaker's other shows hit quite as hard as The Haunting of Bly Manor.
The Fall of the House of Usher, The Midnight Club, Midnight Mass, The Haunting of Bly Manor, and The Haunting of Hill House are all streaming on Netflix.