Mike Flanagan Outdoes Himself Again With Fall of the House of Usher
Flanagan's Netflix era ends with a Poe-flavored family tragedy and a monumental new horror classic.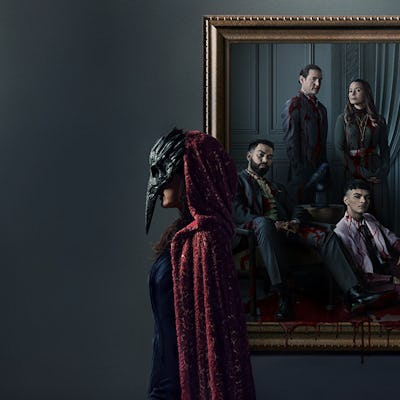 Netflix
One of the biggest misconceptions about Edgar Allan Poe is that he was a horror writer. Sure, his works were integral to the birth of American horror as we know it, but it wasn't the main theme in his work. In other words, Poe wasn't big on the jump scare.
Instead, he wielded dread like no writer before him. Poe's works often tell you the shocking ending before you even get there, and his short story, "The Fall of the House of Usher," is a perfect example. The ending is right there in the name: The House of Usher has fallen, and we, the lucky audience, get a front-row seat.
Mike Flanagan's The Fall of the House of Usher takes this same device and uses it to paint a twisted story that winds its way through Poe's oeuvre. His latest (and final) Netflix project, House of Usher is the culmination of several adaptations of classic horror literature: The Haunting of Hill House, The Haunting of Bly Manor, and The Midnight Club. But while those were different flavors of horror (generational horror, ghost stories, and young adult scares, respectively), House of Usher is full-blown dread. By combining his signature style with Poe's greatest hits, Flanagan creates an epic family tragedy that caps off his Netflix era with a brutally dark note.
We begin at the end, with all of the Usher children dead and Roderick seemingly about to join them. It's an opening perfectly crafted to the streaming format. You instantly want to know how each family member will meet their maker, and none of them disappoint. Every child falls apart and dies in a way that suits them (and is inspired by a different work of Poe) but still looks like an accident with no foul play.
House of Usher centers its story on Roderick Usher (Bruce Greenwood), the CEO of Fortunado Industries, as he reckons with a strange threat to his pharmaceutical empire across his vast family: his twin sister and COO Madeline (Mary McDonnell), his son Frederick (Henry Thomas), and his daughter Tamerlane (Samantha Sloyan). Additionally, Roderick makes a point to bring his multiple illegitimate children into the fold, including PR whiz Camille (Kate Siegel), video game mogul Napoleon (Rahul Kohli), experimental scientist Victorine (T'Nia Miller), and party boy Prospero (Sauriyan Sapkota.)
Much like the original House of Usher, the audience's viewpoint is a longtime friend of Roderick Usher who also happens to be the prosecutor in a harsh trial that stands to hold the Ushers accountable for their crimes. When it's revealed that one Usher has turned on the rest, it sparks a hunt for the informant hiding within a family where love always comes at a price. But little do they know, a strange woman (Carla Gugino) is about to get her own kind of justice. All the while, the conversation between the two men acts as a framing device that interrupts itself and provides commentary, all while folding in the ending.
Throughout Flanagan's Netflix career, we've seen him tackle family in all its forms: the family you're born with, the family you choose, the family you bond with through necessity. But The Fall of The House of Usher finally widens the scope to something bigger. How we should treat everyone in our lives, regardless of their relation to us, the series asks. Prioritizing family is great, but what good is it if everyone else suffers?
None of the Usher children are inherently evil (even if most of them are pretty unlikable). They are simply the product of their own upbringing. And because of Roderick's own quest to give his family the best life possible, they are still punished. Tailor-made for our eat-the-rich era, House of Usher draws a caricature of some of the world's wealthiest and most despised families, before showing us what it would look like if they finally got what was coming to them.
Like all Mike Flanagan shows, the repertory cast shines, especially the young talent he picked up with The Midnight Club. (Ruth Codd, the standout from Midnight Club, proves her talent wasn't just a fluke as Roderick's quasi-child-bride Juno, the poster child for the family's star painkiller.) But the new additions are just as great. Mark Hamill plays the gravelly-voiced family lawyer Arthur Pym (aka, the Pym Reaper), while Bruce Greenwood, who took on the role of Roderick after a mid-production cast departure, slots right into the rest of the cast. Rahul Kohli continues to be the best part of the Flanaverse.
But like the proverbial raven, Poe's signature dread looms over each episode, which can only end one way: with a gruesome demise. Some adaptations are more abstract. "The Gold Bug" is morphed from a short story about cryptography to one woman's descent from Gwyneth Paltrow wannabe to girl-bossing too close to the sun. Others are merely a "cover version," like Victorine hearing a mechanical click she can't seem to identify. Anyone who went through an Edgar Allan Poe phase as a kid (there are more of us than you think) knows this is a reference to "The Tell-Tale Heart," and it's updated to fit the setting perfectly.
Poe isn't the only inspiration for this series. The big pharma family of the Ushers bears more than a passing resemblance to the real-world painkiller empire family, the Sacklers. Flanagan turns his microscope firmly onto the industry, forcing Roderick to reckon with the countless lives he ruined to create a painless world for himself and his family. It's this element where the symbolism becomes a little heavy-handed. The signature "Flanaverse" monologues are back in full force, with multiple characters essentially looking into the camera to say, "The opioid epidemic is bad."
But every great monologue, every quote of Poe, every flashback, and every gruesome murder, more than makes up for the moments where the show tips its hand too far. The writing is concise and the acting immaculate. It's all given a very Succession overtone with a score that heavily uses Beethoven's Seventh Symphony, echoing Nicholas Britell's classical score of the HBO series.
Edgar Allan Poe has long cemented his place in the pantheon of great horror storytellers (even if his work extended beyond the genre). Now, Mike Flanagan has secured a spot right alongside him. Poe left behind a scattered bibliography: short stories, poems, and a novel that jumped around different genres of mystery and intrigue. Flanagan, in grafting them together The Fall of the House of Usher, now leaves behind a Netflix portfolio that will be heralded as one of the greatest collections of horror ever made.
The Fall of the House of Usher premieres October 12 on Netflix.