Marvel VFX Union Takes a Huge Step Forward That Could Change the MCU For the Better
Everything has to start somewhere.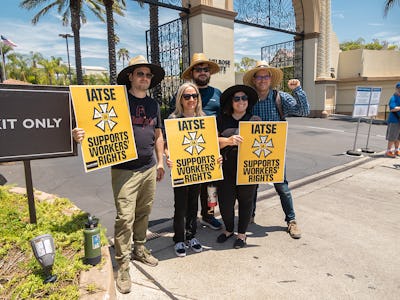 Momodu Mansaray/Getty Images Entertainment/Getty Images
The MCU and DCU became the blockbuster machines they are today due in no small part to the vast, groundbreaking special effects they contain. However, such effects are huge endeavors for studios, and they've taken their toll on workers. Exposés on the treatment of VFX workers employed by Marvel and other studios have been published at Inverse, Vulture, and IGN, describing grueling schedules and poor pay. Now this practice could finally be catching up with Marvel.
Over 50 in-house VFX crew members at Marvel Studios have unanimously voted to unionize with the International Alliance of Theatrical Stage Employees, the union revealed in a press release. IATSE usually covers behind-the-scenes production workers like camera operators, hair and makeup teams, grips, and production design teams, so this is the first time a dedicated VFX unit has joined them.
As anyone who's stayed through the credits of a Marvel movie to catch a post-credits scene will tell you, MCU films usually have hundreds of VFX artists attached. Marvel outsources most of its special effects work to third-party studios that underbid each other to get a prestigious Marvel gig.
This unionization effort is within Marvel itself, focusing on in-house VFX coordinators who work on every Marvel project. It's a small step, but hopefully, it's the start of something bigger. VFX is a relatively young field compared to sound operation or set dressing, but it's just as essential.
"There could be no stronger statement highlighting the overwhelming need for us to continue our work and bring union protections and standards to all VFX workers across the industry," IATSE VFX organizer Mark Patch said in a statement. "And there could be no stronger example of the courage and solidarity of these workers than each and every one of them declaring 'union YES!'"
This is the first step in a long journey, but one that hopefully leads to VFX workers getting the fair pay and working conditions they deserve. This is a positive development for fans, too; VFX creators who don't have to worry about when they'll be able to sleep next will be able to create more compelling work. With Marvel set to come to the table and bargain with its workers, an industry-wide reckoning may loom in the future.