Marvel's Behind the Scenes Shakeup Could Fix Its Biggest Problem
Victoria Alonso, an executive producer since the very first Iron Man, has suddenly left Marvel.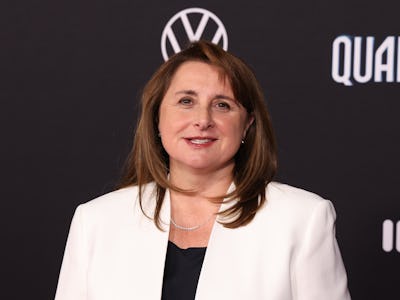 Mark Von Holden/Variety/Getty Images
As the MCU recovers from the underperformance of Ant-Man and the Wasp: Quantumania and looks towards a future that suddenly seems shaky for the first time in years, the surprising departure of a high-ranking executive tosses an entirely new wrench at the multi-million dollar machine.
Victoria Alonso, an executive producer whose tenure with Marvel Studios goes back as far as the very first Iron Man, left the company last Friday. While she served as executive producer on The Avengers and every subsequent release beyond that (including the TV shows), Alonso's start at the company came as chief of visual effects and post-production, and in 2021, she was promoted to president, physical and post-production, visual effects and animation production.
While any speculation on what caused Alonso's departure remains just that for now, it's hard not to imagine that the current conversation surrounding Marvel's VFX practices might have something to do with it. Since the tail end of Phase 3 and onwards, visual effects artists have become more and more vocal about Marvel's extreme deadlines and how working backwards from a release date leaves teams scrambling to complete intricate and complex setpieces. These issues can be seen as far back as 2018's Black Panther, but they've debatably reached a head with recent releases such as Thor: Love and Thunder and Quantumania.
Of course, this issue did not start with Marvel Studios — the state of the VFX industry has been dire for a while now, but the issue is certainly exacerbated by such a massive studio attempting to release six effects-heavy projects within one year. Alonso, as both executive producer and president of visual effects, would have been working directly with teams of artists on these projects, and her personal responsibility for the current work environment is a point of contention. Chris Lee, a senior reporter for Vulture, spoke on Twitter of VFX sources who claimed that Alonso was a toxic boss with unlimited oversight, one who blacklisted artists for "pissing her off" – a claim disputed by Joanna Robinson, a writer at The Ringer who has spent the last four years interviewing employees at Marvel Studios for a book about the juggernaut.
There's always a chance that more information regarding Alonso's departure from Marvel Studios might be revealed, but regardless of the why, what is certain is that this change will be felt. Aside from Kevin Feige and Louis D'Esposito, Victoria Alonso was probably the singular most powerful executive within the company. Based on the fact that she was both producing and working alongside VFX teams for 17 years, it's more than safe to assume that the nature of the company's visual effects practices are about to go through a few radical changes.