14 Years Later, Marvel is Finally Getting Back to Basics
The superhero franchise is officially going back to the drawing board.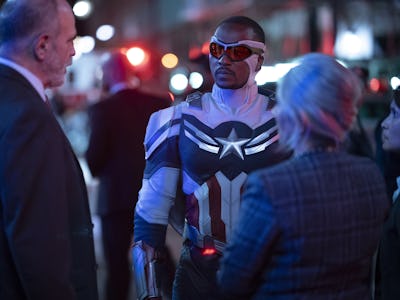 Marvel Studios
The film industry may finally be back on its feet after the WGA and SAG-AFTRA strikes, but it's going to take a while for studios like Disney to fully recover. Marvel especially was struggling long before the strikes forced an industry-wide shutdown, and the projects it's released since have only sunk its reputation further. The strikes were a blessing in disguise: they forced Marvel and Disney to evaluate their recent output, and to come up with a strategy that could reverse their downward spiral.
Disney CEO Bob Iger and Marvel president Kevin Feige have each been adamant about adopting a "quality over quantity" approach — and with production slowing down in earnest, it's clear that wasn't just lip service. Marvel is going back to the drawing board with a handful of upcoming films, Blade and Captain America: Brave New World especially, and that calls for a few adjustments to the release schedule. Check out the updated slate for Marvel's upcoming films below:
Deadpool 3 has been pushed from May 2024 to September 2024.
Captain America: Brave New World, previously set for a September 2024 release, will now hit theaters in February 2025.
Thunderbolts moves from December 2024 to September 2025.
Blade moves from February 2025 to November 2025.
With this new slate, only one Marvel Studios film will drop in 2024. That's a huge departure from the franchise's traditional MO: since Marvel first gave birth to its cinematic universe in 2008, we've scarcely had a year without at least two films. The last time the MCU truly took a "break" might have been in 2009 — no Marvel movies premiered that year — or 2012, which belonged exclusively to The Avengers.
As the Infinity Saga came to a close, Marvel actually ramped up its production, releasing three films a year from 2017 until 2023. It's not hard to see why the studio is battling franchise fatigue — especially combined with its recent push on Disney+, which saw a whopping five series released in 2021 alone.
Audiences need a break just as badly as Marvel itself. By limiting their output in 2024, Marvel has time to genuinely focus on the quality of their films and shows. If the 2025 slate tells us anything, it's that Marvel plans to come back in full force after its year of rest. Hopefully one year is enough time to fix whatever's broken, but hey — it's much better than their strategy as is.