Why Hasn't Marvel Cast Fantastic Four Yet?
You'd think casting Marvel's First Family would be easier than this.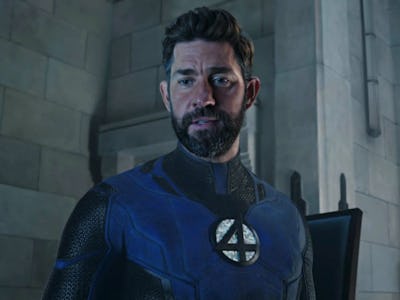 Marvel Studios
Back in 2019, comic book fans had a reason to celebrate. Through Disney's acquisition of 21st Century Fox, Marvel reclaimed the big-screen rights to the Fantastic Four (and also the X-Men). It didn't take long after that for the studio to announce plans for a new movie starring the super-powered family, but ever since then, updates on the film have been few and far between. Fantastic Four, which is set to finally bring Marvel's First Family into the Marvel Cinematic Universe, has been seemingly stuck in development limbo for years.
In 2020, Spider-Man: No Way Home director Jon Watts signed onto the project. Two years later, he was out. WandaVision director Matt Shakman was then hired to replace Watts, and that was basically the last major Fantastic Four update fans received. That is, to say the least, shocking, and not just because Fantastic Four is slated to hit theaters less than two years from now. The project is also, without a doubt, the most high-profile non-Avengers movie that Marvel has in development.
For comparison's sake, James Gunn only announced that he was writing Superman: Legacy in December 2022, and he's since cast several of its major characters. That film is, notably, set to hit theaters just two months after Fantastic Four. With that in mind, why has it been four years since Marvel announced the latter project, with still no actors cast?
To be fair to Marvel, it's worth noting the past month has brought whatever behind-the-scenes Fantastic Four deals it might be pursuing to a grinding halt. The current SAG-AFTRA strike prevents actors from signing any new deals with struck companies like Marvel and Disney, so until the strike has concluded, fans probably shouldn't expect to see anyone officially sign on to star in Fantastic Four. However, Marvel has had nearly four full years to cast the MCU version of its First Family, and it hasn't. So its troubles can't be totally blamed on the strike, which is itself the result of companies like Disney refusing to pay actors and writers what they deserve.
Ultimately, the studio's minimal Fantastic Four progress seems to be proof of either an unhurried strategy on the part of Marvel or a lack of interest in the project from other artists and actors. Marvel could, in all fairness, be moving at precisely the speed it wants to right now. But that'd be a bit baffling, especially considering the fact that the MCU is currently in dire need of flagship heroes like the Fantastic Four.
The movie might also be less attractive to an A-list cast than you might think. Previous attempts to bring the Fantastic Four to life on the big screen have been wholly unsuccessful. On top of that, the excitement surrounding Marvel and the MCU at large has been seriously waning in recent years. Both those things could, for some actors, make the prospect of signing a multi-year contract with Marvel less appealing than fans might think. The studio may, conversely, have simply had the unfortunate luck of only reaching out to actors that aren't interested in playing any of the Fantastic Four up to this point — a possibility that has been floated online.
In all likelihood, fans will never find out why Marvel has taken so long to cast Fantastic Four. But regardless of the reason, there's no denying that the studio's castless creative lineup for the film certainly doesn't look good four years after it was announced. Right now, the fact that no one has signed onto it yet seems like either a sign of little behind-the-scenes interest in the project, a lack of clear creative direction, a growing reticence among actors to tie themselves to the MCU, or all of the above.
Whatever the reason, Marvel's ongoing silence regarding Fantastic Four is both surprising and concerning, especially considering the current conversations surrounding the state of the MCU and the franchise's longevity.
Fantastic Four is currently set to hit theaters on May 2, 2025.