Mandalorian Season 3 Poster Reveals a Profound Grogu Transformation
We love a wardrobe change.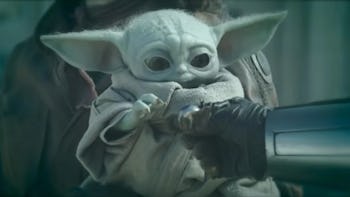 There are a few inalienable truths surrounding The Mandalorian. Grogu, aka Baby Yoda, will always get into adorable hijinks, Din Djarin will say "This is the way," and posters advertising the show will always be memorable. That final axiom was demonstrated yet again when the official poster for The Mandalorian Season 3 debuted on Wednesday.
But while it gained the most attention, more images quietly dropped online, including one that reveals a big change for Grogu.
While the official poster made the rounds on Twitter, poster retailer International Trends listed three never-before-seen images for sale. One featured four Mandalorians, including Mando, the Armorer, and Bo-Katan Kryze; another featured just Mando and Bo-Katan, the two sides of the fight for the Darksaber; and a third featured Mando and Grogu flying in space.
But the fourth — the only one without Mando — proved the most interesting. Simply named "Grogu in Pod," the image shows just that. But on closer inspection, there's an element that could spoil a huge Season 3 reveal and confirm a popular fan theory.
When we see Grogu, he usually appears in the same outfit: a drab brown robe akin to a paper bag. In this poster, the robe seems to have been upgraded from a pullover style to an open-front cut, which allows the audience to see his brand-new Beskar chain mail.
This mail shirt was a gift from Din Djarin to his adopted clanmate after Luke Skywalker took him away for training. Luke could tell the 50-year-old baby was torn between his Jedi birth and his Mandalorian friend, so he gave him a choice: he could choose the shirt and go back to Din Djarin, or choose Master Yoda's lightsaber and continue his training. As you probably recall, he picked the shirt and was returned to Din Djarin's loving, Beskar-covered arms in The Book of Boba Fett.
This poster may confirm a major fan theory surrounding Season 3: now that Grogu has his first piece of Beskar armor, it's presumably only a matter of time before he gets the full setup. We may have even seen a tiny helmet get forged in the Season 3 trailer. But knowing that Din Djarin is having a crisis of faith and is currently distanced from the Children of the Watch, Grogu may choose to take his helmet off as needed, just like Bo-Katan does.
For now, it looks like this saber-proof shirt will act as "training armor" for Grogu. It certainly seems like he's wearing it with pride, which is understandable considering this is the first time he's changed clothes since 2019.
The Mandalorian Season 3 premieres on Disney+ March 1, 2023.
INVERSE may receive a portion of sales if you subscribe to Disney+ through the link in this article.