Mandalorian Showrunners Finally Explain the Messiest Star Wars Controversy
Mando won't be reunited with all of his allies.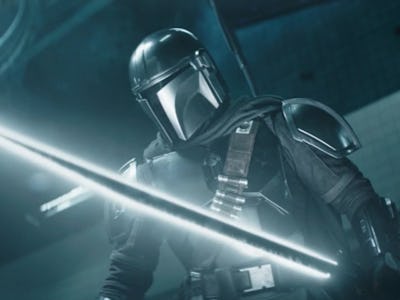 Lucasfilm
The Mandalorian is a show about found family, but not every season has to be a family reunion. Old friends like Boba Fett and Greef Karga will likely visit Din Djarin and Grogu's Clan of Two, but there's one character who will definitely not appear in Season 3. Maybe you've already guessed who, and the showrunners have finally broken their silence about how this absence will be handled.
Gina Carano played Alderaanian warrior Cara Dune in the first two seasons of The Mandalorian, but stepped into scandal on social media. Among other controversies, she posted an image that compared holding unpopular political views to being a victim of the Holocaust, which prompted Lucasfilm to sever ties.
That left Cara Dune's fate up in the air. She had been poised to develop into a major character, and was even given a scene that hinted at a possible spinoff. Fans wondered how the show would deal with this character no longer having an actor, and now we finally know what The Mandalorian's fix is.
In conversation with Deadline Hollywood, Mandalorian director and executive producer Rick Famuyiwa addressed Cara's absence. "Cara was a big part and continues as a character to be part of the world," Famuyiwa said. "It had to be addressed in the creative and [Jon Favreau] took the time to think about that. It was something that was discussed as we knew it was going to have impact on the show, but at the same time, what has been at the heart of the show are the two characters — Din Djarin and Grogu — so ultimately it felt like a servicing of that, and around the Mandalorians."
Co-showrunner Dave Filoni made a similar comment: "It's a big galaxy and we have many characters in it — many characters are fighting for their screen time. We'll just have to see as the season unfolds what the adventures are, but it's a great character, someone who was vital to Din Djarin's beginnings; we'll see if he has evolved beyond that."
So don't expect Cara Dune to return after suddenly receiving facial reconstruction surgery. While there may be some reference to her galivanting around the galaxy, her absence will likely be downplayed to focus on Mando and Grogu.
But to Filoni's point, The Mandalorian is a crowded ensemble show. It's constantly bringing new characters into the fold, while also revisiting old favorites. According to the trailer, Season 3 is already packed to the gills with dozens of new Mandalorians. While Cara Dune's absence may be felt, there are plenty of ways to explain her absence and lots of other storylines to focus on.
The last time we saw Dune, she was given a medal by Carson Teva, who suggested she could join the New Republic and serve the newfound state. Dune refused, but maybe her absence can be explained with a simple throwaway line about changing her mind. Gina Carano may never work with Star Wars again, but Cara Dune can still get a happily ever after.
The Mandalorian Season 3 premieres March 1, 2023 on Disney+.